Wimbledon Live Tennis Score, Men's semi-final Live Streaming: Kevin Anderson 7-6, 6-7, 6-6 vs John Isner
Wimbledon 2018 Live Tennis Score, Men's Singles semi-finals: We are into the semi-finals of Wimbledon 2018. In the first match of the day, America's John Isner will face off against South Africa's Kevin Anderson. This is the first Wimbledon semis for both, and Isner leads the head to head 8-3. In the second match of the day, Rafael Nadal and Novak Djokovic will renew their rivalry. They've played each other 51 times, but not as deep into a grand slam since the 2014 French Open final. In head to head records, Djokovic leads 26-25. Catch live scores and updates as Wimbledon reaches semi-finals stage.
After two and a half hours of play, Isner does not look tired but aggressive. Anderson was the first to break Federer in this year's Wimbledon. And now he is also the first and probably last to break Isner. Anderson leads 5-4 in the third set.
Anderson does it. For the first time in this set, he has a lead by two games. Anderson has broken Isner. He has got to make the most of this opportunity as Isner loses the opening point of his serve. Anderson will serve for the set.
Break, break, break, break, break…Anderson breaks Isner for the first time this fortnight, ending American's streak at 110, but Isner breaks right back. 🇺🇸 to serve, 4-5 in the third.More ➡️ https://t.co/OfYushwtC0#Wimbledon #ATP pic.twitter.com/1mFsKy4Z9k

— ATP World Tour (@ATPWorldTour) July 13, 2018
https://platform.twitter.com/widgets.js
An error from Isner gives Anderson 40-15 lead as the South African leads the third set 3-2. The semifinal looks set to go all the way to the fifth set.
If Anderson lost the third set, it would have a much greater impact on the match. The South African Anderson takes first game of the third set without conceding a point. Isner wins the next game but Anderson returns to snatch back the lead and make it 2-1.
Some aggressive returning by Isner helps him take the second set tie-break against Anderson 7-5. The semifinal is level at one set all.
Second tie-break, different outcome.@JohnIsner levels proceedings on Centre Court, claiming the second set 7-6(5) #Wimbledon📻: https://t.co/JAnCt0TODB📺: https://t.co/fk7us9oLje pic.twitter.com/W2EosRttjq

— Wimbledon (@Wimbledon) July 13, 2018
Anderson draws level with Isner. It's a tie-break as Anderson holds to 30. Second set, second tie-break. Nadal and Djokovic will have to wait a little longer.
Anderson holds to 15 and its 5-5. Isner was on the backfoot after failing to return the first two serves. Anderson looks in command in the second game
Isner saves a break point at 4-4; Anderson to serve to stay in the set at 4-5. Another tie break on the cards? Could be…
After Anderson levelled it at 3-3, Isner is 40-0 up in quick time. Another booming serve from Isner but Anderson can't return and it is now 4-3 in favour of the American.
Kevin Anderson 2-2 John Isner. After taking the first three points, Anderson holds with yet another ace to level the scores. We are in a for a roll.
Isner claims his opening service game. But Anderson retaliates to level it at 1-1. However, another ace by Isner bags him a 2-1 lead.
Kevin Anderson takes the first-set after moving into the tiebreaker; 7-6(6) against John Isner. The first set lasted for 63 minutes and the South African move one step closer to his first final.
In a pulsating contest, Anderson draws first blood. He takes a 2-1 lead but Isner's forehand gets him back into the contest. Anderson 2-4 Isner
Anderson 6-6 Isner and we are into the tie-break. This was always on the cards and it is a no-brainer that this set has gone into the tie-break. Isner's serves are starting to take a menacing shape and once again comes to the rescue when it was needed the most.
Kevin Anderson leads 6-5 against John Isner in the first semi-final of the day. A 23-shot rally to start proceedings before ultimately sealing the game.
A massive serve from Isner and he is back at 5-5. He is out of danger for the moment.
Big forehand from the back of the court helps Anderson take a 40-0 lead. He follows it up with an ace. He is now leading 5-4 in the first game.
It's back to level again. Two aces from Isner levels the set at four-games all. We are in for a long haul for sure.
After facing three break points in his second service game, Kevin Anderson has found a rhythm, losing just two points in his next two service games to take a 4-3 lead
Kevin Anderson 3-3 John Isner in the first set. Isner's fastest serve of the day (135mph) helps him get back into the match before holding to 15. Meanwhile, quite a few empty seats can be spotted.
Isner responds with aplomb and holds to 30 and its now 2-2. Isner is being so aggressive on his returns.
That was a mammoth game. Anderson saves three break points in a 13-minute game. Isner has the first break point of the afternoon then wastes two break points. But Anderson sends down his fourth ace of the match. And he holds for 2-1
In the first set it is Anderson 1-1 Isner. Isner leads the tournament ace charts with 161 and sends down his first of the day before holding to 15.
John Isner and Kevin Anderson are on court. Anderson to serve first in the semi-final. Ready, play!
Hello and Good Evening! Welcome to our live coverage of Wimbledon. We're reached the fag end of the tournament and there are two new faces in the mix. Kevin Anderson and John Isner have made the last four and they have done so in rather surprising fashion. Isner got the better of former finalist Milos Raonic and Anderson had the bigger coup by beating eight-time champion Roger Federer.
In the second semi-final of the day, Djokovic will be up against Nadal in renewal of their famed rivalry. Nadal has gone past the fourth round for the first time since 2011. And he's here after beating Del Potro in a five set classic. Djokovic, on the comeback trail, has done remarkably well to be s consistent in the tournament. Expect plenty of fireworks. And maybe a five setter.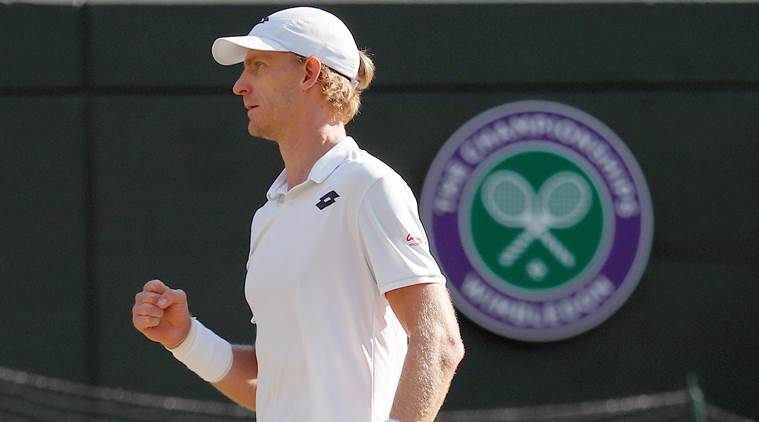 Wimbledon 2018 Live Tennis Score, Day 11 Live Streaming: South Africa's Kevin Anderson will square-off against John Isner. (Source: Reuters)
John Isner and Kevin Anderson are on Centre Court, competing for a place in the Wimbledon final. Their rivalry is a unique one as it dates back to the college days. The duo have competed against each other 11 times as pros – but never on the big stage. Reflecting on the battle, Isner said, "There could be a little mental aspect in our match. I say that because our rivalry, what have you, goes back way before the pro tour. We played each other in college probably three, four, five times. We played each other a bunch on the pro tour". Isner, who is yet to drop serve at the tournament, has hit 160 aces compared to Anderson's 123.
iesp