Will return in 2019, won't rest until BJP govt in 26 states: Amit Shah
Written by Liz Mathew | New Delhi |
Published: May 15, 2018 3:04:09 am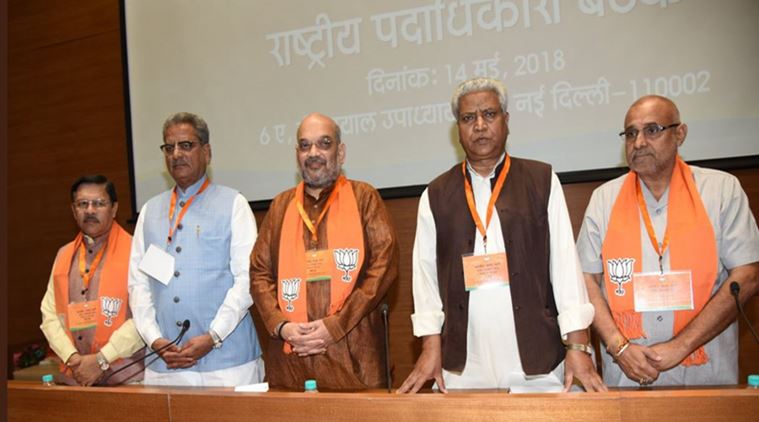 BJP chief Amit Shah at the meeting on Monday. (Twitter/@AmitShah)
Beginning the party's preparations for 2019 Lok Sabha polls, BJP president Amit Shah gave a pep talk to organisation office-bearers on Monday and said the party has the strength to return to power with more seats.
"We will prove that the BJP can return to power, form the government, run the government, and come back again," Shah told BJP national office-bearers, state presidents and key leaders from states in the meet, according to a source.
He said that no BJP worker will rest unless the party is in power in 26 states, and before the party forms governments in Kerala, Odisha Andhra Pradesh, Telangana and West Bengal, sources said.
According to BJP leader Shahnawaz Hussain, who briefed the media along with party spokesperson Sudhansu Trivedi, Shah said the party had already belied those who said the massive win in 2014 was a "fluke" by winning 11 Assembly polls since then. The party, Shah pointed out, has over 1,800 MLAs and 11 crore members across the country.
Stating that opposition parties are coming together in fear of the BJP and PM Narendra Modi, Shah said, "They want to remove Modi, but people want to keep him." Shah reminded party leaders that the Congress started losing its grip in 1967, when its leaders started showing arrogance and began neglecting party organisation. He reminded them that the strength of the organisation has been the BJP's biggest asset.
Amid claims by opposition parties that the BJP will find the going tough in 2019 if they unite, Shah said an atmosphere is created before every poll to downplay BJP's chances. "The BJP president has in a way sounded the bugle for 2019 (polls). We will win the Karnataka polls tomorrow, and we have to prepare from today for 2019," Hussain said.
Follow The Global Express News Coverage on Karnataka Assembly Election Results 2018. For live coverage, live expert analysis and real-time interactive map, log on to IndianExpress.com
For all the latest India News, download Global Express News App
ie india