West Bengal panchayat polls: In Bhangar, violence continues
Written by Esha Roy | Bhangar |
Updated: May 15, 2018 6:17:48 am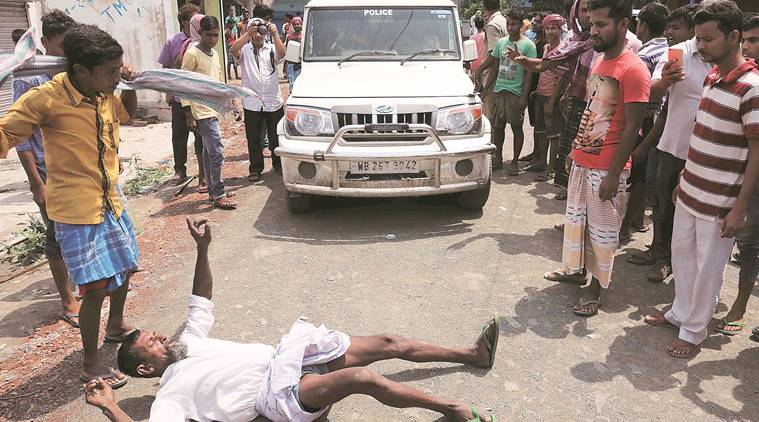 JJPOBRC supporters try to stop a police vehicle in Bhangar on Monday. (Express Photo by Partha Paul)
As voting began for the panchayat polls at 7 am, trouble began almost immediately in Bhangar block II, in South 24 Pargana, where supporter of an Independent candidate was killed, allegedly at the behest of local Trinamool Congress (TMC) leader Arabul Islam last week.
On Monday, clashes broke out between Arabul's supporters and members of Jomi Jibika Poribesh O Bastutantra Raksha Committee (JJPOBRC), which is protesting against the state government's plan to set up a power plant in the area.
JJPOBRC has fielded nine candidates, of 16 it had intended. On Friday, Hafizul Islam, 28, was shot dead during a campaign rally. Arabul was arrested the same night in connection with the murder.
Areas where violence took place in Bhangar Monday are under Arabul's panchayat samiti: Uttar Ghazipur and Ghazipur. The other areas that fall under his samiti – Machibhanga and Padmapukur – are controlled by JJPOBRC. Clashes began in Uttar Ghazipur booths 100 and 102, in Uttar Ghazipur Jamadarpukur Prathmik Vidyalaya, the area's primary school, which was allegedly "captured" by TMC men. The booths were vandalised, as was the vehicle of a local TV channel.
Around 10 am, police cordoned off all roads leading to Uttar Ghazipur.
"The situation is under control right now; we are patrolling. We have detained a couple of people. Voters have nothing to fear," Additional SP (Baruipur) Sandeep Mondal said.
Arabul's son Hakibul Islam is the TMC candidate for Uttar Ghazipur. The committee has pitted Imtiazul Khan (22), whose brother Mofizul, 26, was one of the people killed during the January 17 protests in Bhangar. Imtiazul Khan returned to Bhangar after two weeks on Saturday following Arabul's arrest. He went missing on Monday morning during the clashes.
His father Shukur Islam said, "I first thought my son had been abducted. Then I learnt that he had been beaten up by Islam's men and left in the booth."
He said Imtiazul crawled out of the booth and went to the main road, where a passing vehicle picked him up. He was taken to Medical College in Kolkata for treatment. Khan has taken shelter in Khamaraith village, a Committee stronghold. "I will be spending time here till I know I'm safe,"he says.
Follow The Global Express News Coverage on Karnataka Assembly Election Results 2018. For live coverage, live expert analysis and real-time interactive map, log on to IndianExpress.com
For all the latest India News, download Global Express News App
ie india