Sochi informal summit: PM Modi, Vladimir Putin to meet on May 21
Written by Shubhajit Roy | New Delhi |
Published: May 15, 2018 3:21:51 am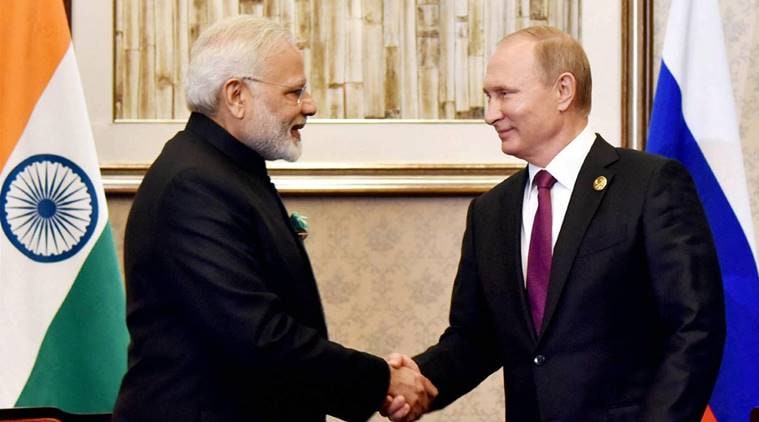 The Sochi summit is in keeping with the tradition of regular consultations between India and Russia. (Source: PIB)
LESS THAN a fortnight after the US, under President Donald Trump, pulled out of the P-5+1 nuclear deal with Iran, Prime Minister Narendra Modi will be travelling to the Black Sea resort town of Sochi for an "informal summit" with Russian President Vladimir Putin on May 21.
This is in line with the new template framed last month, when Modi had travelled to Wuhan to meet Chinese President Xi Jinping on April 28. Ever since the Trump administration decided to withdraw from the nuclear deal, alleging that Tehran is not fulfilling its commitments, the international community has been working overtime to salvage the deal. All major powers, including the UK, France, Germany, Russia and China, have said that they will fulfill the commitments under the deal, known as JCPOA (Joint Comprehensive Plan of Action).
Russia is emerging as a major power player in West Asia, as it is seen to be working towards saving the deal between P-5+1 and Iran. Last week, just after US withdrew from JCPOA, National Security Advisor Ajit Doval visited Moscow for consultations.
The Ministry of External Affairs, in its statement on Monday, said that "at the invitation of Russian President Vladimir Putin", Prime Minister Modi will visit Russia on May 21 for an informal summit in Sochi.
The visit comes at a time when India's defence purchase from Russia could be impacted due to US sanctions under a newly enacted law, Countering America's Adversaries through Sanctions Act (CAATSA). This could affect the S-400 missile defence system deal which is said to be at an advanced stage of negotiations.
"This will be an important occasion for the two leaders to exchange views on international matters in a broad and long-term perspective with the objective of further strengthening our special and privileged strategic partnership," the MEA said.
The Sochi summit is in keeping with the tradition of regular consultations between India and Russia, the MEA said. Russia is the only country — apart from Japan — which has an "annual summit" mechanism with India.
Follow The Global Express News Coverage on Karnataka Assembly Election Results 2018. For live coverage, live expert analysis and real-time interactive map, log on to IndianExpress.com
For all the latest India News, download Global Express News App
ie india