Shahkot bypoll: AAP senior leaders 'shy away' from party candidate's campaign
Written by Anju Agnihotri Chaba | Jalandhar |
Published: May 15, 2018 7:45:16 am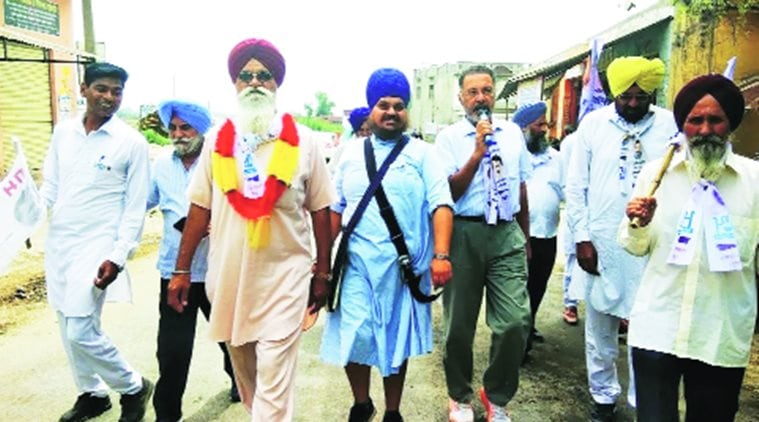 AAP's Punjab co-convener Balbir Singh during a campaign at Shahkot Monday. (Express photo)
While senior Congress and SAD leaders have been out campaigning for the Shahkot bypoll for around two weeks, senior leaders of Aam Aadmi Party (AAP) have been shying away from seeking votes for party candidate, Rattan Singh NRI. AAP leader Bhagwant Mann is yet to visit the constituency, while Leader of Opposition Sukhpal Khaira has visited just once, the day Rattan Singh filed his nomination papers. Both leaders don't have a campaign schedule for the constituency for the coming few days.
When contacted Khaira, while talking to The Global Express News, said that he had gone there on the day of filing nomination papers, but now has no plan to visit Shahkot.
Mann could not be contacted despite efforts to reach him on his three three mobile numbers. He also did not reply to messages sent to him.
AAP state co-convener Dr Balbir Singh said that Mann, had taken leave from party some time back as he wanted to spend time with his family, but apart from him all other MLAs of the party will be coming. About Khaira, he said that they were focusing on issue-based campaigning here and will go door to door and if there would be some road shows we will invite him Khaira to join.
"I can address meetings in the villages but cannot go door to door," said Khaira. Both Khaira and Mann were not in favour of contesting this bypoll after AAP's national convener Arvind Kejriwal's apology to the former minister Bikram Majithia on drug allegation against him. Also party had turned weak here following Dr Amarjit Singh Thind, who had contested on AAP's ticket from here, had left the party.
AAP candidate Rattan Singh said that his campaign had actually started from Monday and he hoped that Khaira would come again to support him. "I am getting full support from Dr Balbir Singh and party MLAs," he said.
For all the latest India News, download Global Express News App
ie india