Set to lose land to bullet train, tribals protest in Mumbai
Written by Kavitha Iyer | Mumbai |
Published: May 18, 2018 6:28:57 am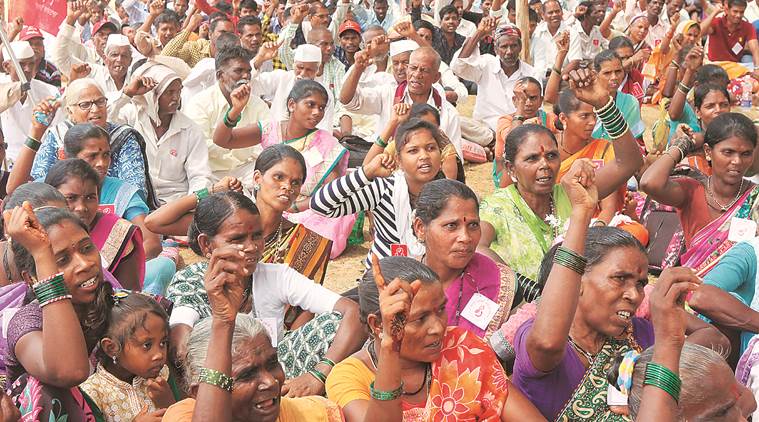 Tribal farmers protest at Azad Maidan Thursday. Ganesh Shirsekar
EARLY this month, Raghunath Sutar (32), a Warli tribal from Dahanu taluka in Maharashtra's Palghar district was at the office of the district collector when his neighbours in Sakhare village sent him WhatsApp messages and photographs of a team of officials insisting on conducting a survey of privately owned farm lands.
"There were policemen, and also riot control police. We were at the Collectorate to discuss our opposition to losing any land for the bullet train project when the survey team arrived on our lands, forcibly, without any prior notice. When villagers protested, they did dadagiri (bullying) and threatened us. Eventually, they left after protesters began to gather with lathis, but they were back in the neighbouring village of Kotabi two days later," says Sutar.
His neighbours from Sakhare and nearly two dozen other villages along Palghar-Dahanu belt were among the 1,000-odd tribals who gathered in Mumbai's Azad Maidan Thursday to demand protection of their unique land rights.
Even as the Devendra Fadnavis-led government races to meet a self-imposed six-month deadline to resolve tens of thousands of pending claims from tribals for land ownership under Forest Rights Act (FRA), adivasis are contending that the same government is seeking to weaken their community institutions and dilute powers their gram sabhas have to prevent land alienation from tribal families.
Tribals of the Bhiwandi-Palghar-Dahanu belt, where farmland is set to be lost to the proposed Rs 1.08-lakh crore Mumbai-Ahmedabad bullet train project and tribals from Nashik and Aurangabad, set to lose land to various other infrastructure or industrial projects, are protesting a November 2017 notification issued by the Governor.
According to the notification, the gram sabha's sanction is no longer required for purchase of tribal-owned land by the state government through mutual agreements with owners, if such land is required for "vital" public projects. The notification, dated November 14, 2017, negates provisions of the Panchayats (Extension to the Scheduled Areas) Act, 1996, which recognises centrality of the gram sabha in preventing land alienation among Scheduled Tribes.
"…Vitally important for whom is the vital question," reads a submission to Governor Ch Vidyasagar Rao by Bhumi Adhikar Andolan, which led Thursday's protest.
Sutar, who owns 5.5 acres of irrigated land with two paddy crops a year, says the bullet train is of little meaning to anybody in Sakhare or the 40-odd villages where land is to be acquired. And everyone near Sakhare discusses the plight of tribals from villages where land was submerged by the nearby Dhamni dam across the Surya river — in their rehabilitation villages of Chandranagar and Hanumannagar, land titles are not yet transferred to the oustees, even three decades later.
The bullet train project, kicked off after discussions between PM Narendra Modi and his Japanese counterpart Shinzo Abe, is being built with a Rs 88,000-crore soft loan from Japan International Cooperation Agency (JICA). Earlier this month, the Japanese Consul General in Mumbai, speaking in Ahmedabad, said India must immediately solve the land acquisition problem. Until now, National High Speed Rail Corporation has acquired only 0.9 hectares in Bandra Kurla Complex, where the Mumbai station will be built. Of 1,400 hectares to be acquired, 353 hectares are in Maharashtra.
Activists, who led a delegation that met the Governor's deputy secretary, requested that the notification be repealed, or reworded. "These notifications under Schedule V of the Constitution, pertaining to special provisions for the Scheduled Areas, are inherently assumed to be to protect interests of tribals living in the Scheduled Areas, not to curtail their rights," said Brian Lobo of the Andolan.
He added that the notification is antithetical to the very spirit of the Schedule V of the Constitution. Ranjit Kumar, Deputy Secretary to the Governor, confirming that the submission was made, said he could not comment on the future course of action.
For all the latest India News, download Global Express News App
ie india