Set high standards of conduct, decorum: LS Speaker Sumitra Mahajan to MPs
By: Express News Service | New Delhi |
Published: July 11, 2018 1:47:16 am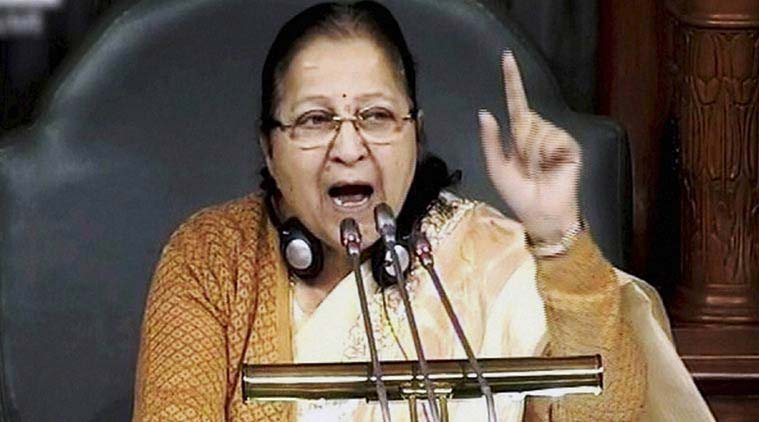 Lok Sabha Speaker Sumitra Mahajan.
Calling on members to establish "high standards of Parliamentary conduct, discipline and decorum", Lok Sabha Speaker Sumitra Mahajan has asked them to ensure a smooth conduct of business during the Monsoon Session of Parliament. The 24-day session will begin on July 18.
In a letter addressed to all members, Mahajan expressed her concern over frequent disruptions of the House. She was referring to the second part of the Budget Session, which was almost a washout.
The Speaker reminded the members that the current Lok Sabha has entered its final year and only three sessions were left. Members now have mainly the monsoon and winter sessions for discussing and transacting legislative business.
She said people have observed the performance of their representatives very keenly. "At times, some members have come into the well of the House and shouted slogans, shown placards and banners and interrupted the House", forcing an adjournment without transacting any business, she said. "Can we justify our own conduct by advancing the argument of improper conduct and interruption of the business of the House by other parties in the past?"
"If we accept this argument then the cycle of interruptions will continue endlessly and such tendency will never be checked."
"All of you will agree that discussion, debate, divergence of opinion and dissent are integral part of functioning of any democratic system," the Speaker said, maintaining that "constructive opposition and lively debates are the lifeline of democracy".
However, "discussion, divergence of opinion and dissent should be within the well-established parameters and accepted norms of Parliamentary dignity and decorum so that people may continue to have abiding faith in democracy and democratic institutions," she said.
"Is it not our moral responsibility to ensure that rules for the conduct of business are followed in letter and spirit?" she asked. "Time has come for us to introspect and decide what is the way forward and ideal image for our Parliament and democracy."
For all the latest India News, download Indian Express App
ie india