Paswan calls himself 'cementing force', says Bihar NDA coalition intact
By: PTI | Patna |
Published: July 6, 2018 9:44:50 pm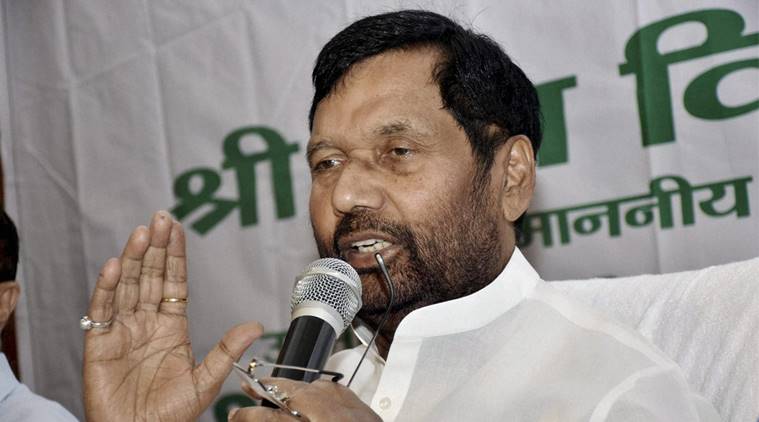 Paswan did not elaborate on the NDA's election strategy for the upcoming Lok Sabha election next year. (File)
Calling himself a "cementing force" within the NDA, Union minister and Lok Janshakti Party (LJP) chief Ram Vilas Paswan today said the ruling coalition was intact. He said when alliance partners "share the same view", an election strategy could be reached in "five minutes". The minister for consumer affairs, food, and public distribution, however, did not elaborate on the NDA's election strategy for the upcoming Lok Sabha election next year.
Paswan was responding to a question about reported rumbling in the grouping on the question of seat sharing for the 2019 general election. "So far, the talks which I had with Nitish Kumar and senior BJP leaders in Delhi last time, I can tell you that there is no problem within (Bihar) NDA," he told reporters here. "I am optimistic that the NDA will remain intact (in Bihar)…I am a cementing force. I am there to keep the NDA intact," he said.
The Union minister was accompanied by younger brother and LJP Bihar unit chief and state minister Pashupati Kumar Paras and others on the occasion. Stating that electoral strategy with regard to the alliance was not discussed in media, Paswan noted, "The election strategy would be chalked out in five minutes once leaders of political parties start sharing the same views".
The NDA in Bihar comprises BJP, JD(U), LJP and RLSP. In the 2014 Lok Sabha elections, the NDA, excluding Nitish Kumar-led JD(U), had won 31 out of a total of 40 seats. The JD(U) which had fought the polls after teaming up with Left parties could win only two seats. After breaking away from the Grand Alliance of JD(U), RJD and Congress last year, Kumar had returned to the NDA fold.
Citing past arrangements within the NDA, some JD(U) leaders are reportedly claiming a lion's share in the allotment of seats for the Lok Sabha polls next year. Some JD(U) leaders have referred to the seat-sharing arrangement during the 2009 general elections, wherein the JD(U) contested 25 out of 40 seats in Bihar, while the BJP put up their candidates in rest of the 15 seats.
Commenting on such reports, Paswan said these things keep happening during the time of elections. The LJP had fielded candidates in seven constituencies of Bihar during the 2014 Lok Sabha polls, out of which it won six seats. Paswan also appealed to the Congress to extend its support to a bill according to constitutional status to National Commission for Backward Classes in the upcoming Parliament session.
For all the latest India News, download Global Express News App
ie india