Nawaz Sharif Returning To Pakistan, To Be Arrested On Arrival
Islamabad:
Former Pakistan Prime Minister Nawaz Sharif and his daughter Maryam, who were sentenced for long jail terms in a graft case, will return to Pakistan today. Nawaz Sharif and his political heir Maryam will be arrested as soon as they reach Pakistan. Massive arrangements have been made for their arrival, with more than 10,000 police personnel deployed. The authorities will reportedly use shipping containers to block roads in Lahore, after Mr Sharif's Pakistan Muslim League-Nawaz (PML-N) workers threatened to march to the airport. Nawaz Sharif is returning from London via Abu Dhabi, a week after a court gave him a 10-year-jail term over the purchase of flats in London. His daughter was also handed a seven-year jail term. Pakistan will go for elections on July 25.
Here are the live updates of Nawaz Sharif's arrival:
Nawaz Sharif and Maryam Nawaz are expected to land in Lahore at 6:15 pm(local time). After being arrested, they will be taken to Islamabad by helicopter. They will be sent to Adiala jail to serve their imprisonment.
Nawaz Sharif will be arrested by Pakistan's National Accountability Bureau (NAB), which had sentenced him to jail, after his plane reaches Pakistan. The teams of the agency are stationed at both Lahore's Allama Iqbal International Airport, the original planned destination, and at Islamabad International Airport, in the off chance that the flight is diverted for any reason.
Nawaz Sharif, 68, was sentenced to 10 years in prison by a Pakistani accountability court for corrupt practices linked to his family's purchase of four London flats. He faces two more corruption cases against him following the Panama Paper scandal.
I will be taken straight to jail. But I am doing this for people of Pakistan, sacrificing for generations to come. Such opportunity won't come again.Let's build destiny of Pakistan together: Nawaz Sharif said on-board plane to Abu Dhabi
Nawaz Sharif and his daughter Maryam Nawaz Sharif have landed at UAE's Abu Dhabi International Airport, reported ANI.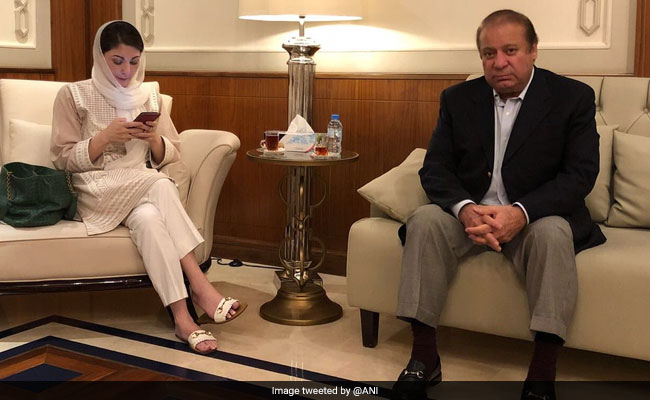 Pakistan's Punjab province government has ordered to shut mobile networks in Lahore from 3 pm to 12 am. The provincial government has also ordered an internet shutdown.
Pakistan's media regulator has ordered television channels to stop live telecast of briefings of political leaders containing "defamatory and derogatory content".
Former Pakistan Prime Minister Nawaz Sharif and his daughter Maryam, sentenced to jail for corruption, are likely to be arrested mid-air, even before they land in Lahore this evening, suggest reports
ndtc_world