Meeting of BJP morchas for 2019: Politics of hard work has replaced politics of dynasty, says PM Modi
Written by Liz Mathew | New Delhi |
Published: May 18, 2018 5:51:48 am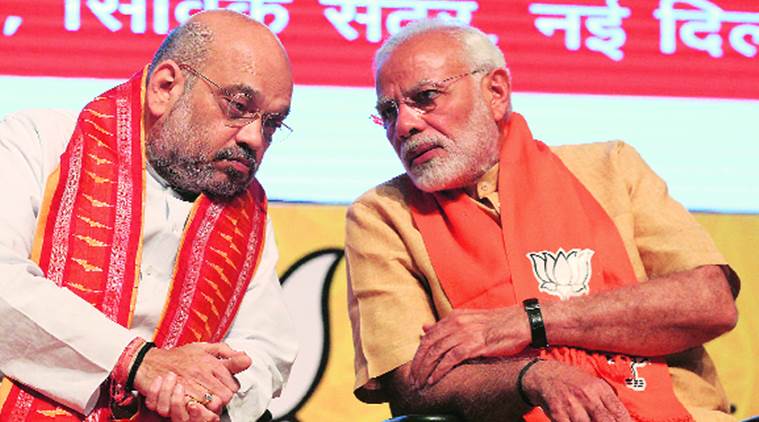 Prime Minister Narendra Modi with BJP president Amit Shah at the inauguration of the combined BJP national executive committee meeting of all the morchas in New Delhi on Thursday. Express photo by Amit Mehra
Asserting that the era of dynasty politics has been replaced by the politics of hard work, Prime Minister Narendra Modi on Thursday urged his partymen to work hard to reach out to the people and focus on youngsters ahead of the 2019 Lok Sabha elections. Modi also wanted the BJP's several wings or morchas to ensure that the party has "young, articulate and balanced spokespersons who can go and speak on all social media platforms to reach out to people at every level," sources said.
Addressing the office-bearers of the party's morchas, BJP chief Amit Shah asked them to work towards winning 50 per cent of the votes in the general election. At the meeting, attended by office-bearers of the Yuva, Mahila, Kisan, OBC, SC and ST morchas, leaders were asked to use the NaMo app to get connected to 22 crore families in the country. BJP leaders had claimed that the party, through its April 14-May 5 campaign, had reached out to 22 crore families with the government's flagship programmes. The outreach should be completed before the 2019 election.
The Prime Minister reiterated that every leader of the party should engage deeply in ensuring that welfare and flagship programmes reach the villages. "The era of dynasty politics is over. Now it's time for 'parishram vadi'. The hard working BJP has been appreciated and supported by people," Modi was quoted as saying by party general secretary Bhupender Yadav, who briefed the media over the day-long meeting.
All morcha activists have been asked to help the youth and first-time voters to get enrolled in the voters' list. "The PM kept talking about youngsters. He wanted the party to reach out to youngsters in every sector — young students, farmers, Dalits and tribals. His speech for more than an hour was very positive and nice," said a participant.
The activists should also conduct programmes at the mandal and booth level, and hold several meetings in the upcoming year.
For all the latest India News, download Global Express News App
ie india