Karnataka election fallout: Goa Congress MLAs meet Governor Mridula Sinha, stake claim to form govt
By: Express Web Desk | New Delhi |
Updated: May 18, 2018 1:23:45 pm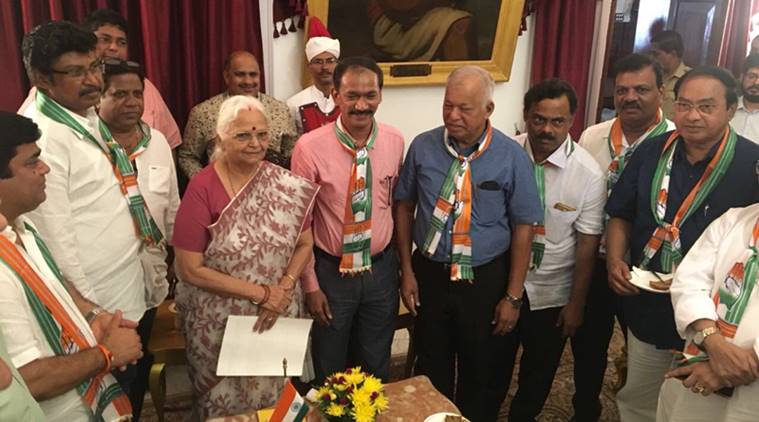 Goa Congress MLAs with Governor Mridula Sinha at Raj Bhawan on Friday. (Source: INCGoa)
Goa Congress MLAs on Friday met Governor Mridula Sinha to stake claim to form the government in the state, since they had emerged as the largest party in the 2017 assembly election. In a tweet, the Goa Congress said, "@INCGoa MLAs call upon HE Governor Mridula Sinha to stake claim to form the government on Goa."
The symbolic move comes just a day after Karnataka Governor invited BJP to stake the claim in the assembly after they emerged as the largest party in the assembly elections.
Follow 'Save Democracy Day' LIVE UPDATES
In a protests against the decision of Karnataka governor Vajubhai Vala to invite BJP to form the government despite falling short of the required numbers, the Congress has been demanding they be called to form the government, on the lines of Karnataka governor's decision, in the state as it had emerged as the largest party in the 2017 assembly election.
Follow Yeddyurappa's Supreme Court test LIVE
"Yes, we have an appointment with the Governor tomorrow morning. We will be going to meet her and stake claim to form the government," Goa Congress president Girish Chodankar told IndianExpress.com, questioning how in Karnataka the same could be allowed. "How can they have different yardsticks? If they have allowed the single-largest party to come to power in Karnataka, then they should allow that here as well. So we will meet her and tell her that," Chodankar added.
In the 2017 Goa Assembly elections, the Congress party emerged as the single-largest party with 17 of the 40 seats. Following the results, one of the MLAs, Vishwajit Rane, resigned from the Congress Party and the Assembly just before the floor test and joined the BJP. The BJP had won 13 of the 40 seats.
Goa Congress Legislature Party leader Chandrakant Kavlekar moved the Supreme Court on March 13, 2017, challenging the Governor's decision to invite Parrikar to form the government. A Bench of the then Chief Justice J S Khehar and Justices Ranjan Gogoi and R K Agrawal, while rejecting the Congress's objection, ordered a floor test, saying that the "instant sensitive and contentious issue… can be resolved by a simple direction, requiring the holding of a floor test at the earliest".
RJD's Tejashwi Yadav claims govt in Bihar
Meanwhile, in Bihar RJD's Tejashwi Yadav also said that they will prove the majority to the Governor and stake claim in the assembly. The former Deputy CM of Bihar said, "We are going to prove our majority to the Governor. We stake claim to form the government. We have the support of many parties and MLAs of those parties are with us. Let's see what happens."
In Bihar, the JD(U)-BJP alliance together with other allies have 131 seats in 243 Assembly. However, the RJD is still the single largest party with 80 MLAs. "We would be holding a one-day dharna tomorrow against the murder of democracy in Karnataka. We also request the Bihar Governor to dissolve the state government and like in Karnataka invite the single largest party, which in Bihar is the RJD," RJD leader Tejashwi Yadav said after the midnight drama in Karnataka.
For all the latest India News, download Global Express News App
ie india