Karan Johar, Ranbir Kapoor, Shahid Kapoor and Kartik Aaryan announce the 19th IIFA. See photos and videos
Written by Arushi Jain | New Delhi |
Published: May 18, 2018 11:00:33 am
Karan Johar will host the IIFA Awrads Night this year with Riteish Deshmukh.
Thursday evening became a special one for Delhiites as the frontman of International Indian Film Academy Awards (IIFA), Karan Johar came along with Bollywood stars Shahid Kapoor, Ranbir Kapoor, Kartik Aaryan and Dia Mirza to the capital city to announce the 19th edition of IIFA. This year, the award show which celebrates Indian cinema will take place from June 22-June 24 in Bangkok, Thailand. Like every year, the event will witness the coming together of the who's who of Bollywood under one roof.
Filmmaker Karan Johar, whose association with IIFA dates back to the year 2000 when the awards ceremony opened for the first time at The Millennium Dome in London, spoke highly of it at the IIFA press conference in Delhi. He said, "IIFA is much more than an award ceremony. It has now been entrenched in the DNA of our film fraternity. It goes beyond being just a ceremony of entertainment. It's industry award that awards excellence on every platform. Also, it's like an industry holiday. Everyone comes together as a true bonafide film fraternity."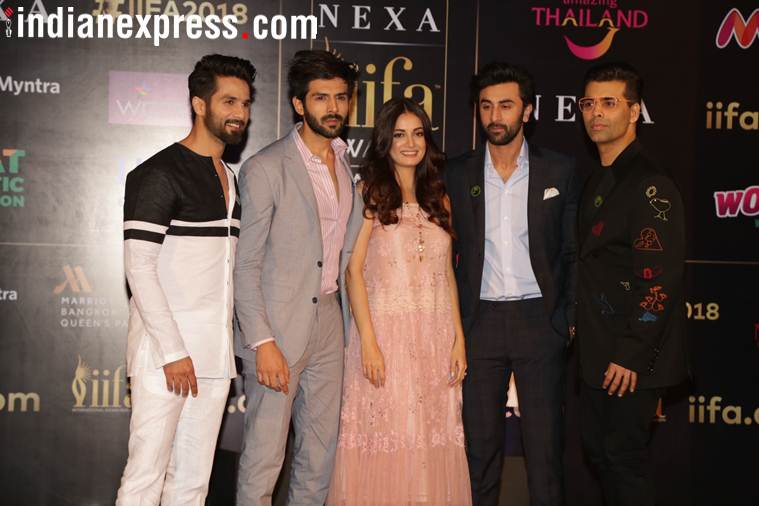 Shahid Kapoor, Kartik Aaryan, Dia Mirza, Ranbir Kapoor and Karanm Johar are all set for IIFA 2018.
Talking further about it, he added, "It's an emotional journey for me. I remember my father (Yash Johar) being the part of the first advisory board of IIFA. He sat diligently in an old school way trying to seat movie stars so that they would get the right placement. From then to the year 2004 when he was awarded the lifetime achievement award, that particular IIFA in Singapore will remain special to me forever. It is that IIFA that I search for on YouTube and listen to the speech I gave for my father. Its that image of me hugging my father that beautifully lies in my memory as that was the last time I hugged him on a public platform."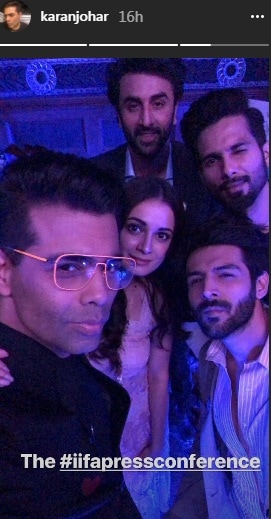 Karan Johar shared a selfies from the IIFA press conference in Delhi.
This year, the IIFA award night will be hosted by Karan along with Riteish Deshmukh. The duo has earlier too left the audience in splits at various platforms with their impressive hosting skills. Divulging details about what can be expected from the glamorous event this year, Karan said, "This year we have a very rare appearance of Ranbir Kapoor who last performed in IIFA Bangkok 10 years ago. We have a debutant Kartik Aaryan who has delivered a 100-crore movie and will be hosting the IIFA Rocks event. Just like me, there is glamorous Dia Mirza. Then there is Shahid Kapoor who has been a friend of IIFA and he has been a solid support."
Being his sassy best, Karan pulled Ranbir's leg at the press conference as he asked the audience to go and watch the actor's next release Sanju and said, "Of course, we can't wait to watch Sanju on June 29. Ranbir that's my plug for you on this platform." Giving it back to the filmmaker in his own subtle way, Ranbir, when asked if there will be a big performance from him this year at IIFA, he replied, "I don't know if there will be a big performance as we leave that to Karan Johar's sangeet performances. But yes, I am excited to perform in Bangkok as this is the place where I won my first IIFA award for Saawariya." For those who don't know, Karan gave a special performance at Sonam Kapoor's sangeet ceremony on popular numbers like "Prem Ratan Dhan Paayo", "Shava Shava" and "Saajan Ji Ghar Aaye."
Ranbir Kapoor will be performing at this year's IIFA and the actor chose not to reveal anything about it so soon. Instead, he said, "I am very nervous when I dance for the live audience as there are no retakes or cuts." When asked if he gets irritated when someone doesn't get his or her steps right during the rehearsals, Ranbir very calmly added, "No, when I am rehearsing it's not only like I am rehearsing for myself. This rehearsal time is also fun time as we discover new steps." Jokingly, he added, "I rehearse in the hotel room while having a shower, sitting on the pot, eating dinner, I always keep memorising the steps."
Later in the conference, Karan also mentioned how Salman Khan is the best host. On being asked who hosts the best after parties, Karan revealed, "It's always Salman Khan, who has the best after parties. He is definitely the man who brings everyone together in one room. So every time there's IIFA and Salman is there, there's always a big after party in his room."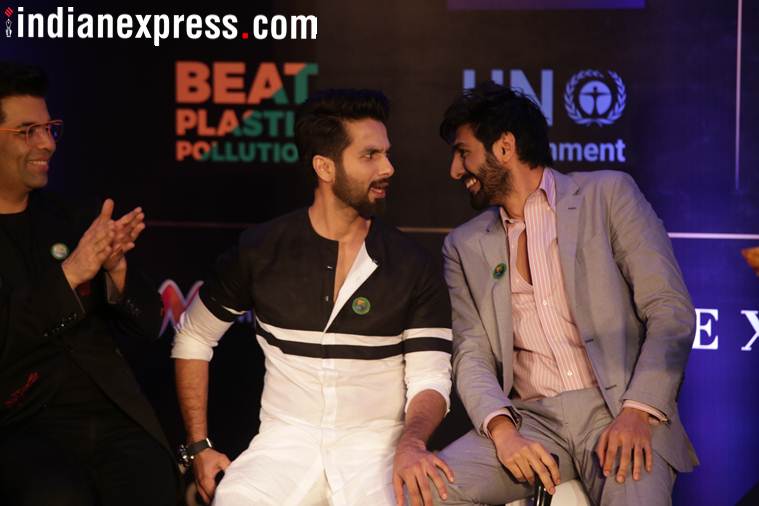 Shahid Kapoor and Kartik Aaryan were seen sharing laughter at the IIFA Press Conference in Delhi. (Photo: APH Images)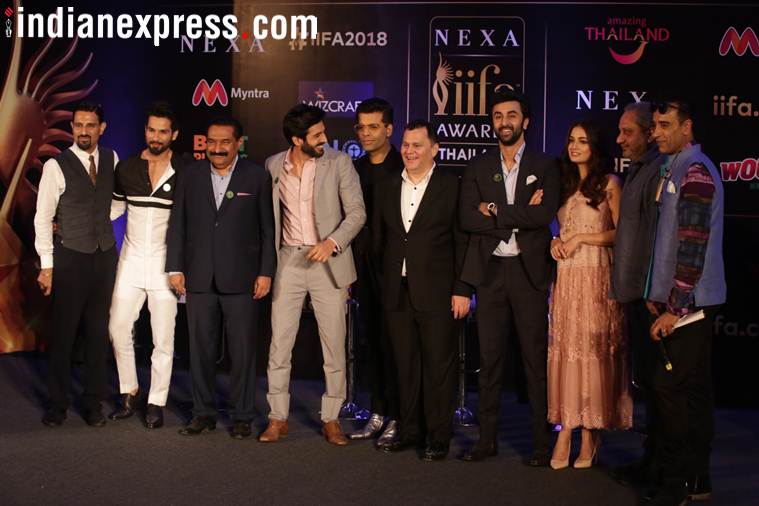 Karan Johar, Ranbir Kapoor, Shahid Kapoor, Dia Mirza and Kartik Aaryan strike a pose with the organisers of IIFA. (Photo: APH Images)
Shahid Kapoor who will also be performing at the gala awards evening said he is not sure if wife Mira Rajput and daughter Misha Kapoor will accompany him to Bangkok. Kartik Aaryan, who is excited about his debut at IIFA, said, "I am excited to debut as a host at IIFA Rocks this year. As an actor, you always want to be a part of something as big as IIFA, whether to perform or host. IIFA certainly gives you the biggest audience to entertain with your performance and I look forward to hosting a great show."
For all the latest Entertainment News, download Global Express News App
iebw