Justice Ranjan Gogoi to deliver Third Ramnath Goenka Lecture next week
By: Express News Service | New Delhi |
Published: July 7, 2018 5:22:17 am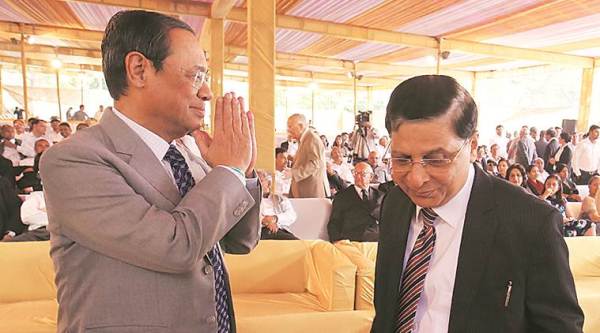 Justice Ranjan Gogoi with CJI Dipak Misra at a farewell function for Justice A K Goel in New Delhi. (Express Photo by Anil Sharma)
Supreme Court judge Justice Ranjan Gogoi, the second most senior judge of the apex court, will deliver the Third Ramnath Goenka Memorial Lecture here on July 12. The lecture series was launched by The Express Group in March 2016 to mark 25 years of the passing away of Ramnath Goenka, founder of The Indian Express. The lecture, in the spirit of the founder and the newspaper, is meant to deepen understanding of change and inspire debate on issues of vital contemporary interest.
Raghuram Rajan, then Governor of the Reserve Bank of India, delivered the first lecture while former President Pranab Mukherjee did the honours at the second lecture in May 2017.
Justice Gogoi has chosen to speak on "The vision of justice". A former judge of the Gauhati High Court and Punjab and Haryana High Court, Justice Gogoi came to the apex court in 2012. He is a key member of the Supreme Court Collegium – the apex body in charge of appointments to the higher judiciary.
He has headed the apex court bench which ordered setting up of separate courts for fast-tracking cases against politicians. Another bench headed by him has been monitoring the updation of the National Register of Citizens intended to identify illegal migrants in Assam. Speaking about child rights and rising sex abuse recently, Justice Gogoi had said that the country's "justice delivery system is begging for a complete overhaul".
For all the latest India News, download Indian Express App