IPL 2018 Week wrap: Bangladesh's MoM peeve, a hello from Nepal and keepers of the faith
Published: May 15, 2018 1:40:04 am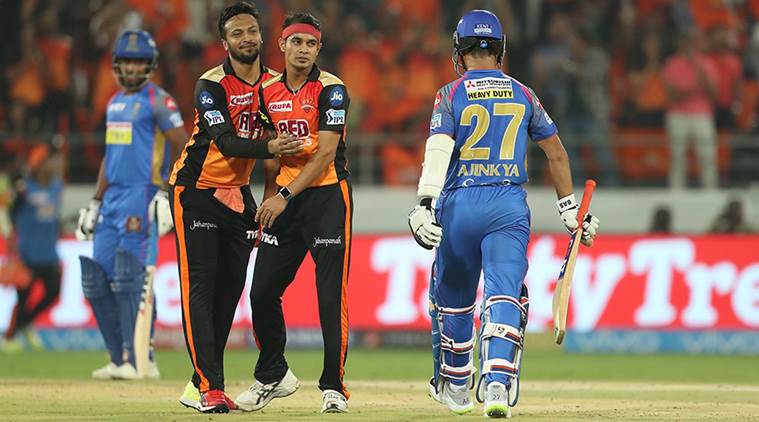 Shakib Al Hasan has been an instrumental performer in SRH's brilliant run in IPL 2018. (Source: BCCI)
The IPL's format is relentless in the extreme. Sixty games are packed so tightly in a small window that it sometimes feels like one looooong match being played on the loop over 51 days. Similar sounding names – Kings, Royals, Riders/Risers – and near identical jerseys – Rajasthan and Mumbai being a case in point – don't help matters either. Consequently, unless you are a hardcore fan, you won't be able to instantly recollect which Kings Rajasthan Royals defeated in their most recent Kingly encounter. [Answer: Chennai Super Kings.] But even the most diehard fans perhaps wouldn't remember trivia such as who was adjudged Man of the Match in a particular encounter. For example, it's likely few outside of Ankit Rajpoot's family would be able to tell that he was MoM twice this season. There are so many prizes and cheques handed out that the MoM award gets lost in the noise. Understandably then, 'IPL Lite' was taken aback when a journalist from Bangladesh called after one IPL evening to enquire why Shakib Al Hasan was passed over for the award despite taking two wickets and scoring some 30-odd runs in a low-scoring affair? It took 'Lite' some time to figure out which match he was talking about (SRH vs RCB, May 7). "It must have been a mistake," 'Lite' replied. "No," the Bangladesh journo said. "It has been happening rather regularly." Turned out Shakib took two wickets and scored 30-odd in another low-scoring affair (SRH vs KXIP, April 26), but was overlooked — in favour of, well, Rajpoot. Who cares, Lite was tempted to tell our Dhaka-based friend. But it became evident, as the conversation progressed, that it had become a cause of consternation in the neighbouring country — though a full-blown diplomatic standoff with India wasn't imminent. Fans on popular Bangladesh cricket forums felt their hero had been slighted. There were articles in prominent newspapers too, speculating why Shakib was overlooked, with current and former players expressing their disappointment. 'Best performer but not worthy of Player of the Match', screamed one headline
There were voices of reason too, suggesting that Shakib, at least, was getting more game time at Sunrisers Hyderabad than he was at his former team Kolkata Knight Riders. Scouring portals and websites in search of outrage and chats with fellow journalists from the other side of the border brought to 'Lite' one indisputable fact: the IPL buzz in Bangladesh was real. People really followed it. A few other takeaways: The most popular IPL team in Bangladesh isn't KKR but SRH, obviously for Shakib. The second-most popular team is Mumbai Indians, because Mustafizur Rahman is in the squad, though fans are frustrated he is on the bench. And they are still angry that Tamim Iqbal and Mushfiqur Rahim were ignored at the auction. A couple of — well-deserved — MoM awards to Shakib can ease that pain and burnish the IPL brand there.
Hoping for some amnesia
It was the tournament's 628th six, or was it 638th, maybe they said 648th. What stays in the mind is Dean Jones' proclamation: "This is the shot of the season." The Aussies have been easy to please this year — Prithvi Shaw has Tendulkar technique, yeah right Mark Waugh — but this one didn't insult India's cricketing sense or judgment. Game: DD vs RCB. Batsman: Virat Kohli. Bowler: Trent Boult. 5.4 over: Boult comes around the wicket, angles one in from the corner of the crease, slight drop in pace, seaming in from just short of good length. Kohli takes it on the up, stays upright, bottom hand takes over, balls disappears into the Delhi night, hits the sponsors' box at extra cover. The Kohli of old would have lunged further ahead, checked the bottom hand, rolled the bat over the ball like a TT player's top-spin, and played the ball along the carpet. Kohli of older vintage, unsure to go forward or stay back, might have even edged it behind the stumps. That's history, a past the ever-improving batsman can laugh about now. But what breaks your heart and makes you feel for modern-day cricketers is how he will soon have to unlearn all this. Jimmy Anderson right-arm over, corner of the crease, just short of length in England … hope Kohli's bottom hand muscles have a memory loss.
Lamichhane's way of unifying the world
It'll be interesting to see how history remembers Sandeep Lamichhane's IPL debut with reference to Prime Minister Narendra Modi's Nepal visit. Had Delhi Daredevils decided to give their 17-year-old Nepali wonder-kid his first cap in the T20 extravaganza first or was it Modi who pre-empted the selection and raved in his speech at Kathmandu about the new "connection" a "Nepali boy" had made between the two countries through cricket. Both events, after all, transpired on the same day. "This connection with cricket will strengthen our people-to-people ties & I hope there are more sports through which we can connect," the PM said. Lamichhane, for good measure, went on to make quite an impression and managed to create quite a connect with the Indian audience, keeping Kohli and AB de Villiers quiet in his spell. Lamichchane had no. 1 on his jersey and his mentor of sorts Michael Clarke, former Australia captain, couldn't resist asking him in an interview whether it was because he was the first player from Nepal. The answer was more modest, though. "Well, I didn't get my usual no. 25 as Kagiso Rabada had it. Hence I took the decision to have no. 1." The IPL official site puts up videos of interviews done on the sidelines of matches or after them, and they usually garner views ranging from 7000 to 10,000. Such is Nepal's pride and world cricket's curiosity about Lamicchane that Clarke's brief interview fetched almost 1,50,000 views.
Was Hooda denied a leg-bye due to a silly rule?
The hypothetical scenario is what makes this interesting. What if this had happened on the last ball of the World Cup final, with a team needing two runs to win off one ball? In the game between Hyderabad and Chennai, Deepak Hooda was given out lbw, but crossed over and asked for a review. It showed that the umpire's decision was wrong, but the leg-bye wasn't counted. It set off a hypothetical World Cup final scenario on Twitter but here is the counterview. As the umpire puts up his finger, the fielders relax and don't go for a potential run- out. Even the batsmen might not run after the decision.
The Knight with a double barrel
The IPL is no stranger to double-barrelled names, for instance Jean-Paul Duminy and Nathan Coulter-Nile have been around for ages. But not the aural magnificence of Kolkata Knight Riders' Javon Scantlebury-Searles, the 31-year-old medium-pacer from Barbados. The double-barrelled surname had the commentators fumbling on his IPL debut, against Kings XI Punjab, as there was no uniformity in addressing him. 'Avon', Scantlebury, Searles, 'Avon' Searles, Scantlebury-Searles all did their rounds. Worse still, they couldn't ignore him, for he was pretty much in the thick of the action. He snared a couple of catches, took the wicket of dangerman Aaron Finch and was tonked for 52 runs in four overs. Next time, just call him JSS, like they call Toby Roland-Jones TRJ up at Lord's.
This IPL is for keeps
This edition of IPL has been great for the wicketkeepers. Not only has MS Dhoni rediscovered his hitting form in great style and Dinesh Karthik shrugged off his restlessness and became more consistent, the other gloved men too are in form. This is the first IPL when three wicketkeeper-batsmen have aggregated over 500 runs – Rishabh Pant (582), KL Rahul (537) and Jos Buttler (509) have been leading the way, all three scoring 5 fifties as well.
For all the latest Sports News, download Global Express News App
iesp