India vs England: Will Adil Rashid spin 180-deg for England?
Written by Sandip G |
Published: July 23, 2018 1:20:52 am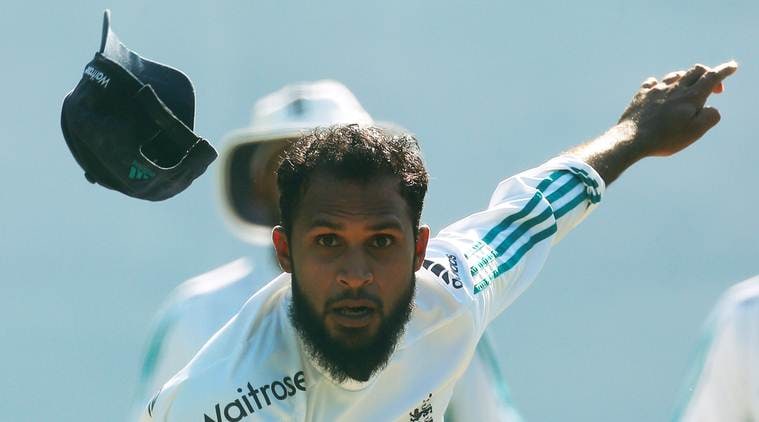 Rashid, least of all, would be wondering at the fickleness of fans and pundits alike. (Source: Reuters)
Plucked from obscurity for the tour to Pakistan at the stroke of this century, former England leg-spinner Ian Salisbury jested: "It's never too old or late if you're an English spinner." He was, in a backhanded manner, reflecting on England's storied deficiency in producing quality spinners in the post-John Emburey and pre-Graeme Swann era (though the quirky Phill Tufnell did offer hope intermittently). Salisbury, at 30, was not quite old then, but after a dozen Test matches spread over eight years, he knew the career trajectory of English spinners, how their stock suddenly inflates before a trip to the subcontinent. Unlike that tour 18 years ago, it would be at least five months before England set foot in Asia. But Adil Rashid, five months after he quit red-ball cricket, nearly a year after his last first-class match and one-and-a-half years after his final Test, finds himself being talked about with the same hype that had preceded his burst into international cricket. From head coach Trevor Bayliss to former spin-bowling coach Saqlain Mushtaq, everybody associated with English cricket is imploring Rashid to reverse his decision and reacquaint with red-ball cricket in a little more than a week's time, before the first Test against India.
Rashid, least of all, would be wondering at the fickleness of fans and pundits alike. For a few months ago, shortly after he shot a letter to his county Yorkshire expressing his lack of "buzz and heart" in playing long-form cricket, he supposedly figure-headed all that was ill with the cricketing world, when cricketers swapped long-form rigour all too conveniently for short-form riches, unmindful of the reality that he was not even part of the IPL and the Pakistan Super League. The only T20 contract he held, apart from the one with Yorkshire, was the one with the Big Bash League later this year. He'd tried explaining his side to deaf ears. "A couple of overs here and there. Doing that, I wouldn't get my rhythm — two overs before lunch, a few overs before tea. That wouldn't help my confidence. At the stage, I'd just be going through the motions. It's better to work on other skills at that time and get better," he had said in a press conference later this year. He, apparently, was also disheartened by the English selectors who took Jack Leach, Mason Crane and Dominic Bess for the Ashes and New Zealand tours. But no-one listened to Rashid, and his relationship with Yorkshire inevitably fractured. His decision in 2016 to abstain from the County Championship decider due to an illness to a family member was quickly referred to to suggest that he didn't quite have the heart to play for the county, and he was perceived as some kind of an outsider, and not the sprightly leg-spinner who catalysed their championship success in 2014 and 2015.
A magical delivery
All it requires was a magical delivery to change perceptions. The fizzing leg-break that nailed, of all batsmen, Virat Kohli changed minds overnight. Suddenly, the word magic and Rashid began to reappear side-by-side in newspapers. The footage of the dismissal became viral, and Saqlain was again gushing praises of his protege. "It was magical and even a batsman of Kohli's calibre was bamboozled," Saqlain told Daily Express. "Such deliveries…we only get to see them once in a very long time." Not just in isolation of that surreal delivery that took out one of the most ruthless players of spin, but Rashid, since returning to limited-overs cricket, has regenerated his career. He has shed his seemingly unchangeable trait of spraying one fence-ball too many, has worked on his fitness and doesn't look to over-rely on his variations than the stock ball. As a result, since the New Zealand series last year, he has picked 50 wickets in 27 ODIs at 26.
The highly impressed Bayliss, meanwhile, hopes that chairman of selectors Ed Smith speaks to Rashid and cajoles him out of his decision. "I'm not sure whether Ed Smith's had a chat with him or not. But he's bowled well in one-day cricket over the last few years but his control and his consistency this year has been top class — probably the best I've seen him bowl since I've been here." The persuasion talks are also aided by the weather. A wetter or cooler summer would have induced them to think that James Anderson, Stuart Broard and the rest would have sufficed to whittle out the Indians batsmen — and Broaderson still could accomplish the task — but the prolonged dry spell has made them seriously rethink their spin variables. The recent success of English spinners (and spinners overall) would further bolster the wisdom of blooding in a spinner, not as a filler, but as a genuine wicket-taking option.
At the moment in England, as it had been for ages, there seems to be a genuine dearth of spinners. Moeen Ali has been on the wane since his 10-wicket haul against South Africa at Lord's last year. Leach and Bess, Somerset's left-armer and offie, didn't pose much trouble to India A batsmen. The latter has taken only four wickets in the last eight innings; the former has picked eight in his five. Moreover, there's a genuine strain of thought that current Indian batsmen are not as proficient in neutering quality spinners as their predecessors. On the previous India tour, Moeen enjoyed considerable success (19 wickets); so had Nathan Lyon (23) in Australia in 2014. Rashid, definitely is more artful than Ali, though less nuanced than Lyon, but the case for a spinner against India has seldom seemed more pronounced than in recent times, though Indian batsmen dealt Rashid without any discomfort on England's tour to India in 2016. Anyway, leg-spinners infuse threat, real or illusory, as only leg-spinners can. However, summoning someone without little first-class experience in the last year, corresponding his white-ball form to red-ball assurance, risks criticism, not least in England, where conventions are revered. As recently as the Pakistan series, the inclusion of Jos Buttler triggered widespread criticism as he was picked on his form in the IPL and the ODIs — it's a different argument that he succeeded.
An element of risk
But unlike Buttler, who had never claimed that he wanted to quit red-ball cricket but rather wanted to focus more on shorter forms to rekindle his lost touch, Rashid had vehemently voiced his dissociation with long-form cricket, besides turning down several attempts at negotiations from the Yorkshire board. He has, in several newspaper columns, complained of the cold treatment by the selectors, from being picked in the side as early as 2008 and waiting for seven more years to make his Test debut. So if he's picked and then flops, both Rashid and the selectors will be perpetually hounded, and there's a fear that it could affect his form in limited-overs cricket, in which he remains England's most effective bowler, especially with the World Cup a year away. Such stray fears ahead, England is hoping that Rashid changes his mind. Should he indeed find his heart again in Test cricket, it could be quite a narrative, living up to the Salisbury stereotype of , "it's never too late or old to dust up that old white shirt." But as fate had it, it was the last Salisbury played for his country.
England's milestone match
Test No. 1000: England will become the first country to reach the milestone of 1,000 Tests, when they face India in the first of the five-Test series at Edgbaston starting August 1. Only three other countries have played half that many Tests over a long period of time, signifying that paying lip service to the purest form of the game is not a new phenomenon. As far as results go, Australia has been the most successful team over the years.
More than a third of England's Test matches have been played against one country — arch-rivals Australia, 346 out of 999 which comes to 34.6 per cent. The proportion of matches against the Old Enemy is even bigger in terms of Australia, 42.6 per cent.
Out of India's 145 wins, 99 have come on home soil, 68.2 per cent of the total. India has registered 84 Test wins since the turn of the century, 51 of the 90 played at home, More than 60 per cent of the wins have come at home during this period. The win percentage at home is over 56 per cent.
West Indies have won just 49 of their 221 Tests played after being beaten by Australia at home in 1995, their first series defeat in 15 years and first series reversal at home for 22. A total of 113 out of their 188 losses have come after that series, proving that contest to be a watershed moment for them.
For all the latest Sports News, download Indian Express App
iecr