India vs England: The quicker we learn from our mistakes, the better, says Ajinkya Rahane
By: Sports Desk |
Published: August 11, 2018 10:34:20 am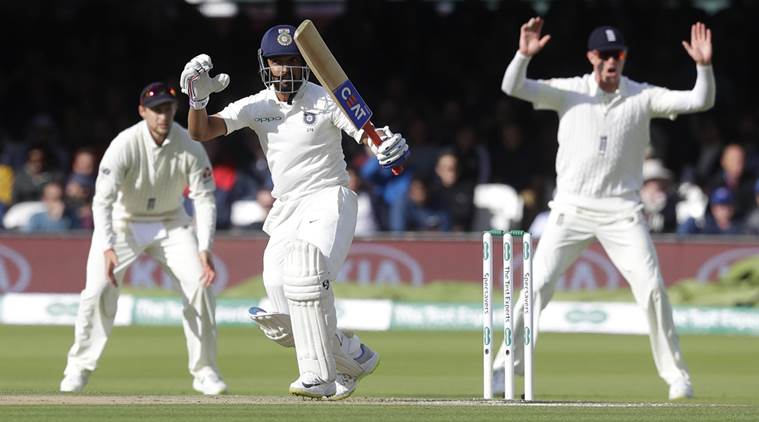 Ajinkya Rahane was dismissed for 18 in the second Test. (Reuters)
India vice-captain Ajinkya Rahane on Friday said accepted that Indian batsmen faltered against a quality attack amid tough conditions on the second day of the second Test against England at Lord's. The visitors were bowled out for 107 on a rain-hit day and Rahane was quick to point out that the batsmen should have defended better despite challenging conditions. Speaking to reporters at the press conference after the match, the 30-year old said, "You have to accept your mistake. Acceptance is the key, I think, when you play in England. It's not about getting caught behind, even run out, but you have got to accept your mistake and move on. The quicker we learn from our mistakes, the better for us. I am sure everyone will learn from this innings and there is a long way to go in this match as well as the series."
He further added that India could learn a few tricks from their opposition. "May be we will need to learn from their batting unit how to bat in such conditions, which shots are important, which shots you can play, etc. Many times in England you cannot only stay defensive. You need to understand which shots you can play — may be the cut shot or the late cut. So the earlier you learn all that the better it would be for you," Rahane said.
Rahane further went on to add that the conditions were tougher than anywhere else. I don't think you can get any more challenging conditions than this (in Test cricket) especially with Duke ball in these weather conditions. But as a batsman you have to back your ability. It is all about intent out there, of not only scoring runs but also leaving the ball and defending well. As a batsman it is always a challenge to come here and play against this kind of attack," he said.
The right-hand batsman further went on to praise England seamer who finished with a fifer in the first innings. "These were definitely challenging conditions. Anderson did not bowl a short ball. He was just bowling at same spot — four or five metre length — and that is really crucial on this wicket. If you are bowling that length, you got to bowl consistently, then as a batsman you have to leave the ball or back your methods consistently. It is all about patience on these conditions and trusting your methods and backing your ability," he said.
"They used the conditions really well. I thought the wicket, because of the weather we cannot control. First half, when the game was on and off, it was difficult for batting team to switch on and off. But when you play at the highest level, no excuses. I would like to give credit to English bowling team — Anderson, Stuart Broad and others — they bowled really well as a unit," he added.
The batsman also said that the constant interruptions due to rain coupled with Cheteshwar Pujara's unlucky run out put India in a tough spot. "It definitely hurts as a teammates, and I am sure even Pujara will be upset about his run out. The run out definitely hurt us and the weather after that too. I think we did not get to play for 3-4 hours, so definitely as a team you feel really bad," he said.
Despite the low total, Rahane said that his side has the ability to defend it and get back into the match. "You cannot be too harsh on yourself as an individual and team when you get conditions like this. You have to back yourself as a player and team. I felt we were right there skill wise. There is still a long way to go in this match. We have to bowl well, and our bowling unit is doing well. If weather permits, I am sure our bowlers will bowl in the right areas well. Cricket is a funny game, we still have to back ourselves and get positive mind set back," he said.
"It is important that you back yourself in English conditions and trust your methods. I think still you need luck in these conditions. But there are no complaints at all, we have to bowl and field well," he added.
India are trailing 1-0 in the 5-match Test series after losing the first Test by 31 runs at Edgbaston.
Start your day the best way
with the
Express Morning Briefing
For all the latest Sports News, download Indian Express App
iecr