In Assam, three sadhus mobbed on child-lifting suspicion
Written by Abhishek Saha | Guwahati |
Updated: July 7, 2018 6:11:47 am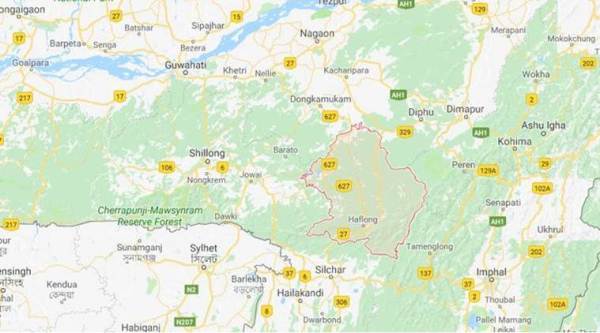 The three sadhus had reportedly attended Ambubachi Mela at Kamakhya Temple in Guwahati last month and were on way to Tripura in a Uttar Pradesh-registered car. (Google Maps)
Three sadhus were rescued in Dima Hasao district of Assam on Thursday after they were mobbed by at least 300 people, who suspected they were child abductors, the police said on Friday. The incident comes days after five people were lynched in four separate incidents in Assam and neighbouring Tripura in June following rumours and fake news spread through social media networks, primarily messages and videos on WhatsApp, according to the police.
A video footage of the sadhus — two from Uttar Pradesh and the third from Gujarat — being rescued by security personnel did the rounds on social media Friday. The three had reportedly attended Ambubachi Mela at Kamakhya Temple in Guwahati last month and were on way to Tripura in a Uttar Pradesh-registered car. With floods in the region leaving roads damaged in many areas, they could not progress and were returning to Guwahati when they stopped at Mahur, in Dima Hasao district, about 300 km southeast of Guwahati.
Dima Hasao's Superintendent of Police Prasanta Saikia said, "They had stopped at Mahur since one of them had to relieve himself. As that person went to the railway station washroom and the other two were waiting in the car, local people gathered around them. They confronted the men and started asking questions."
An officer from Mahur police station said nearly 300 men and women had gathered, and many of them accused the sadhus of being child-lifters. The third man, who had gone to the washroom, drew the attention of Territorial Army personnel at the camp nearby and brought them to the spot.
"The Territorial Army and the police, under officer-in-charge of Mahur police station saved the three men in time," Saikia said. He said even after the police took away the trio, a few women continued their allegations that the three were child abductors and were carrying some suspicious medicines for use in kidnapping.
"We let a few women meet the trio and see for themselves whether they were child-lifters," Saikia said. He said the women checked the trio's belongings and finally seemed to be reassured that they were not child-lifters.
Two Guwahati residents were lynched in Karbi Anglong district of the state on June 8 after local residents got suspicious that they were child abductors. On June 28, Tripura witnessed three separate incidents of lynching on similar suspicion and rumours.
For all the latest India News, download Indian Express App