Ignored in Cabinet expansion, three Congress MLAs resign from Punjab Assembly panels
Written by Kanchan Vasdev | Chandigarh |
Published: May 15, 2018 8:01:34 am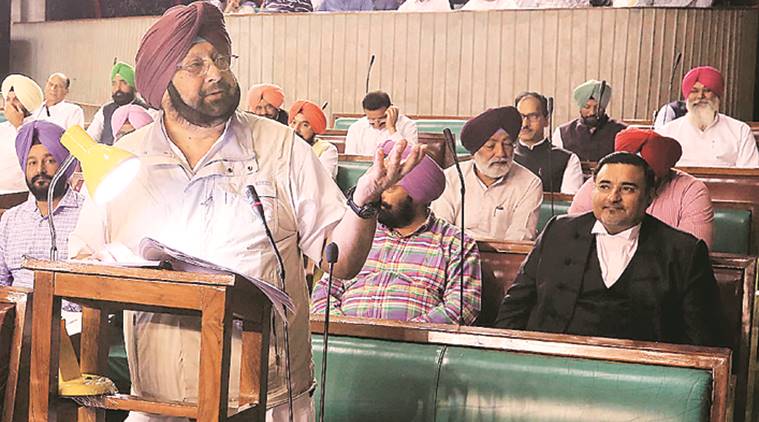 Six-time legislator Rajesh Pandey, four-time MLA Amrik Singh Dhillon and four-time MLA Randeep Singh Nabha handed over resignations from the committees to Speaker Rana Kanwarpal Singh (In picture: Punjab CM Amarinder Singh/Express file photo)
Even as ruling Congress spent entire last week in damage control exercise ahead of Shahkot bypoll, trouble for the party does not seem to end with three senior MLAs raising a banner of revolt and resigning from the Vidhan Sabha committees on Monday for being ignored in the Cabinet expansion.
Six-time legislator from Ludhiana-North, Rajesh Pandey, four-time MLA from Samrala Amrik Singh Dhillon and four-time MLA from Amloh Randeep Singh Nabha handed over their resignations from the committees to Speaker Rana Kanwarpal Singh to protest against "ignoring of their seniority and adjusting junior MLAs in the Cabinet".
Only last week the party was engaged in firefighting after its candidate for Shahkot bypoll Hardev Singh Laddi Sherowalia was booked in a case of illegal sand mining by the then SHO of Mehatpur Parminder Singh Bajwa.
Bajwa had created enough problems for the ruling party with his outburst against the candidate and Chief Minister Amarinder Singh. He has been booked and arrested in a case of assault after he tried to enter a courtroom armed.
As party had just felt some relief from the heat turned on by the police officer, it is the turn of three MLAs to take on the party.
"We have sought time from AICC president Rahul Gandhi. As and when he gets free from Karnataka election on Tuesday, we hope to meet him and take the issue to him. I am the senior most MLA. As many as 10 are my juniors and they are in the Cabinet," said Pandey, who resigned as chairman of Public Undertaking Committee of Vidhan Sabha.
He said he had submitted his resignation to PCC president Sunil Jakhar after expansion. "Neither the CM nor Jakhar bothered about it. Nobody even called up to find out why I was upset."
Nabha told The Global Express News that he was miffed at being ignored, "I am a self-respecting person. Despite being a four-time MLA, I was ignored. I have been a dyed in wool Congressman. But nothing was considered."
On why did he not take up the issue with the CM, he said, "Doesn't he know what his happening in his party? What kind of government is he running? Doesn't he know how the Congress functions? Why do I need to tell him that I am upset?" He asked angrily.
He resigned as member of Public Accounts Committee. Nabha also said they were feeling that Congress families were ignored. Be it Pandey, whose father was assassinated by terrorists, or Gurkirat Kotli, whose grandfather and former Chief Minister Beant Singh was also killed.
Dhillon resigned as chairman of Library Committee, "Why should we be on these committees? For what? For travelling and daily allowance? Why do we need that when we have been ignored for Cabinet? Don't you think our seniority should have been respected?" asked Dhillon.
For all the latest India News, download Global Express News App
ie india