Ibobi seeks appointment with Manipur governor, to demand dissolving BJP govt
Written by Esha Roy | Kolkata |
Published: May 17, 2018 8:07:32 pm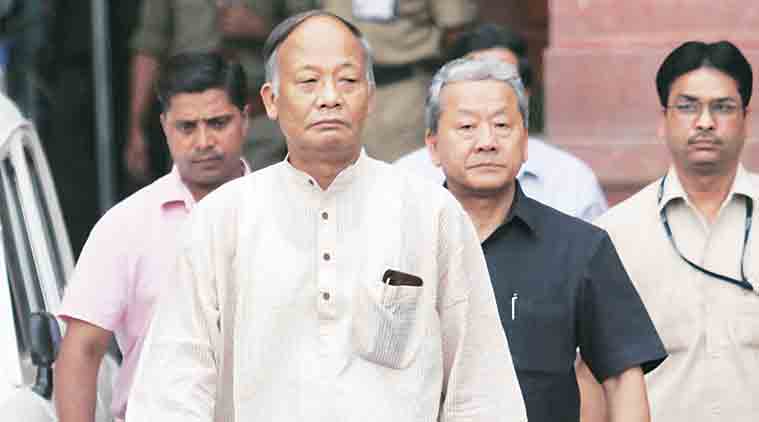 While the Manipur Congress won 28 of the 60 assembly seats in the state, the BJP had won 21. (Express photo by RAVI KANOJIA)
Former Manipur Chief Minister and CLP leader Okram Ibobi Singh has sought an appointment with the Manipur Governor on Friday to demand the dissolution of the present government based on the developments which has taken place in Karnataka. Speaking to The Global Express News, Singh said that the Governor should dissolve the present coalition government in Manipur, and invite the Congress, which was the single largest party in the 2017 assembly election.
While the Manipur Congress won 28 of the 60 assembly seats in the state, the BJP had won 21. The BJP had later formed the government with the support of four MLAs from the Naga People's Front, four MLAs from Conrad Sangma's National People's Party, an independent candidate, an MLA from the TMC and an MLA from LJP.
"As soon as the assembly election results had been announced I had rushed to the Raj Bhavan with a written application to meet Governor Najma Heptullah to stake claim on forming government. I had requested her to invite us to from the government being the single largest party in the state. But she had called the BJP instead with the logic that they had the numbers and were able to put together a majority. But in Karnataka the single largest party has been called by the Governor to form government.
"Based on the development in Karnataka our demand is that the present government be dissolved and we be allowed to form government. India is one country with one law. There are no separate laws for Karnataka and Manipur. Does this mean that Manipur is not a part of the country,'' said Singh speaking to The Global Express News.
General Secretary Congress Manipur RK Imo Singh says that two different yardsticks have been used for the two states. "After assembly elections here we were short of three seats while in Karntaka they were are short of 7-8 seats. Even in Meghalaya a rainbow coalition was formed to set up government. We did not push the matter at that time because the BJP had assembled the numbers with smaller parties on board. In Karnataka that is not the case.
"There is no wriggle room for getting more MLAs unless they actually break the Congress or the JD(S). If the single largest party has been called in Karnataka, then why were we not given the opportunity,''he says.
For all the latest India News, download Global Express News App
ie india