Hot Heads: 20 Players With the Most Red Cards in Premier League History
Everybody loves a meaty challenge. The joy of watching one of your boys smash into an opponent and win the ball cleanly to hard to replicate. It is often said: win the 50-50s and you'll win the match no problem.
However, what happens when it all goes…a bit wrong? One half second late and the tackle turns deadly. Red cards can give teams a mountain to climb, especially in a division as competitive as the Premier League.
It's not always that either. Some idiots will throw a tantrum, or maybe even start a fist fight. There are many ways to be dismissed from the pitch and certain individuals are more likely to blow their top than others.
Here's a run down of the 20 players with the most red cards in Premier League history.
20. Nemanja Vidic – 6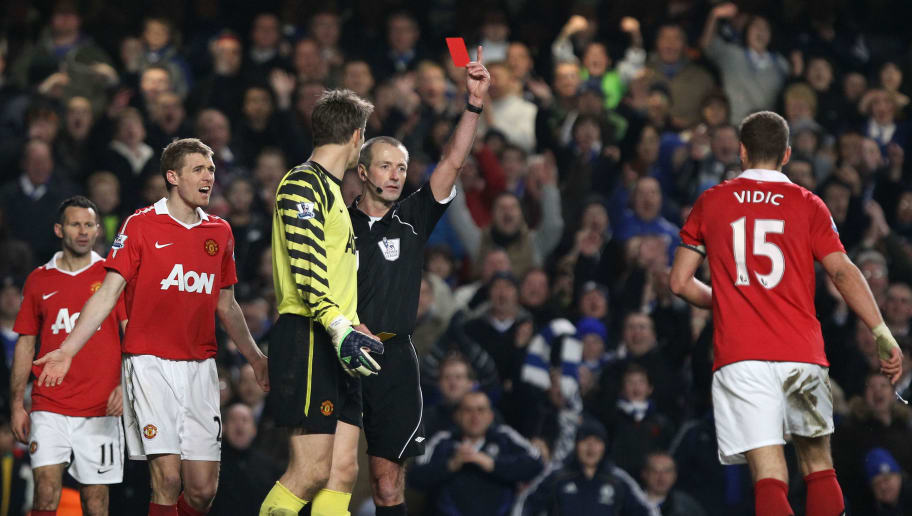 One of the greatest defenders the Premier League has ever seen, Nemanja Vidic combined with Rio Ferdinand to make Manchester United's back line almost impenetrable.
However, there were a few bad days at the office, most notably when he came up against arch rivals Liverpool. With six red cards to his name in England's top division, Fernando Torres and Daniel Sturridge are players that linger on the mind.
19. John Terry – 6
Captain, leader, legend. Well…as long as he's still on the pitch.
Chelsea's favourite son represented the Blues for a total of 22 years, turning professional in 1998. The club's all time highest scoring defender, he also received six dismissals in 492 Premier League matches.
While his most memorable was against Barcelona in the Champions League semi final, the sending off that would've frustrated him the most was against West Brom. Shown his second booking by Mark Clattenburg after Salomon Rondon tumbled, Terry headed down the Hawthorns tunnel in disgust.
18. Franck Queudrue – 6
The now retired French left back certainly had his fair share of crunching challenges while in the Premier League. Turning out for both Birmingham and Fulham, Queudrue is without doubt best known for his time with Middlesbrough.
A straight dismissal versus Tottenham after a two footed tackle on Noe Pamarot was his sixth sending off in four years with the north east side. The previous came in the Smoggies' UEFA Cup final run.
17. Paul Konchesky – 6
Currently turning out for East Thurrock, Paul Konchesky is in the twilight years of his career. Part of Roy Hodgson's failed era at Liverpool, the left back is probably better known for his time at West Ham, Fulham and Charlton.
Red cards for those clubs plus two dismissals for Leicester City have the Englishman sitting at a total of six, and many more followed while in the Championship. Passionate while on the pitch, it's clear that it sometimes pushed him slightly over the edge.
16. Martin Keown – 6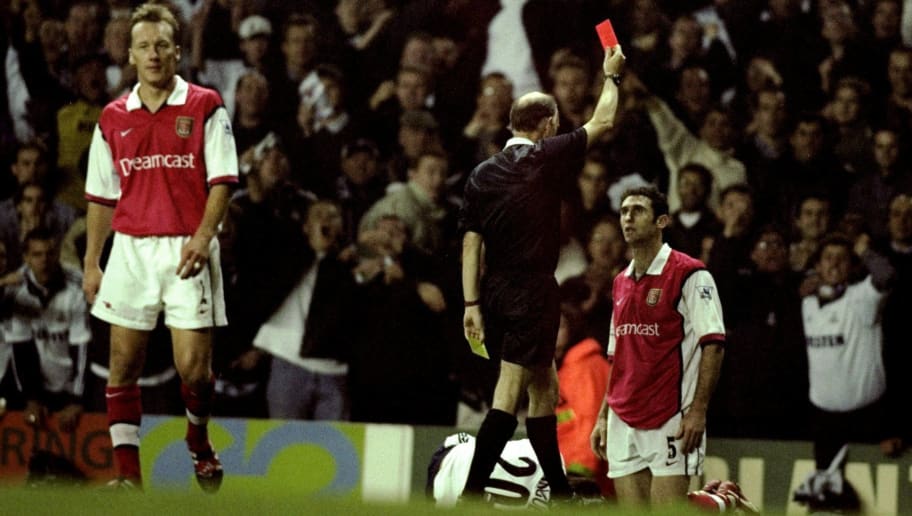 Thirteen Everton appearances aside, Martin Keown spent the majority of his Premier League career with Arsenal. Six red cards for the Gunners doesn't exactly sit well, but supporters will likely forgive him due to three Premier League titles and four FA Cups.
The most notable of all his dismissals was in the north London derby, as a second booking saw him booed down the White Hart Lane tunnel. A win for Spurs was very rare in this decade of Arsenal dominance, but Keown and Freddie Ljungberg's early baths allowed the home side to eek out a 2-1 victory.
15. Younes Kaboul
Now at Watford, Yonues Kaboul is currently on the sidelines with a metatarsal fracture. Possibly best known for his spell with Tottenham, the Frenchman saw red four times with the Lilywhites.
Dismissals also came at Portsmouth and Sunderland, but all three of his straight dismissals were with the north London side. Of all the marching orders he would like to forget, the worst may have been a 25th minute exit in a 2-0 loss to rivals West Ham.
14. John Hartson – 6
At one time the world's most expensive teenager, the man known as 'big bad John' certainly knew how to put himself about. Unfortunately behind Ian Wright and Dennis Bergkamp while at Arsenal, the Welshman went on to notable spells with West Ham and Wimbledon.
After two red cards with each of the three previously mentioned clubs, Hartson had one season with Coventry before moving north of the border to become a fan favourite at Celtic Park.
13. Steven Gerrard – 6
Liverpool's worshipped midfielder could do a little bit of everything. While best known for his moments of brilliance against Olympiacos and West Ham, Gerrard didn't always cover himself in glory.
Multiple red cards came in the Merseyside derby, but the one that holds in the memory is his last match against Manchester United. Coming on a substitute at half-time, it took a mere 38 seconds for the number eight to head back down the Anfield tunnel after stamping on Ander Herrera.
12. Andy Cole – 6
Sending shockwaves through the English top flight when he switched the black and white of Newcastle for the red of Manchester, Andy Cole was a special talent.
One of the best forwards the Premier League has ever seen, 188 goals is testament to his striking ability. However, six red cards may shock a few, as the Englishman wasn't exactly known for his violent side. Most came later in his career, with Fulham and Blackburn feeling the effects of his petulance.
11. Nicky Butt – 6
A lesser celebrated member of the class of '92, Nicky Butt was an important part of Sir Alex Ferguson's Manchester United side while with the club. A combative midfielder, the Englishman won an impressive eight Premier League titles, three FA Cups and one Champions League in a 12 year spell.
His time in the top flight saw Butt receive his marching orders six times, four of which were with the Red Devils. He picked up one apiece later on in his career with Newcastle and Birmingham, by which time the stalwart had over 400 first division appearances.
10. Luis Boa Morte – 6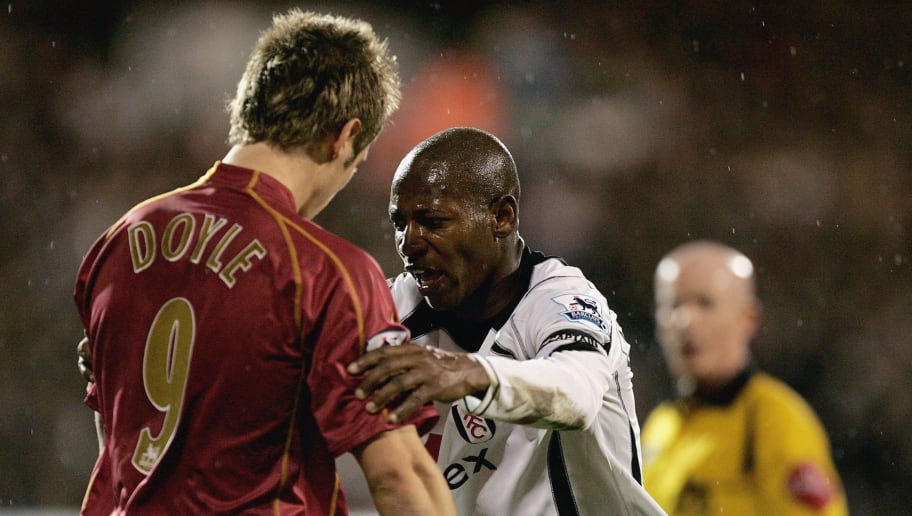 The Portuguese midfielder might seem like a surprise inclusion on this list, but Boa Morte's temperament was anything but cool. He spent 14 years between Arsenal, West Ham and Fulham, seeing five dismissals, with an added red card while at Southampton.
His first season at Craven Cottage saw two red cards in 24 games, as fans questioned whether he was the right man to lead their midfield. However, 166 Premier League appearances in SW6 saw great moments, with qualification for the 2002/03 UEFA Cup a particular highlight.
9. Joey Barton – 6
Joey Barton is hardly known for being an angel and saw a few red cards while in the Premier League. The most important was without a doubt his dismissal against Manchester City, with his moment of madness lighting the blue touch paper.
Sent off for elbowing Carlos Tevez in the face, he then proceeded to cause an absolute melee after viciously kneeing Sergio Aguero while making his way off the pitch. Restrained by QPR's fitness coach and assistant manager, Barton's crazy decision was part of one of the division's greatest ever games.
8. Gareth Barry – 6
Holding the all-time appearance record for Premier League players, Gareth Barry has been around the block. An England international back in his prime, the midfielder won the top flight and an FA Cup while at Manchester City.
Spells at Aston Villa, West Brom and Everton saw Barry topple Ryan Giggs' impressive tally, and even though relegation has hurt his chances of extending such a lead, 653 games in still ridiculously impressive. Six red cards have been spread around that time, with his first earned way back in the 2003/04 season.
7. Alan Smith – 7
Hothead Alan Smith was quite the talented player while moving up through the ranks at a fantastic Leeds side. Five of his sending offs came with the Yorkshire side, before a turncoat move to hated rivals Manchester United incensed fans.
Sixty-one Premier League appearances with the Red Devils only saw one dismissal, with his most memorable moment at Old Trafford finishing off a sumptuous one touch move against Roma in the Champions League. A transfer to Newcastle then completed his 'United tour', with injury and relegation curtailing his time in the English top flight.
6. Roy Keane – 7
A thunderous character, Roy Keane was never far from a crunching tackle. However, on more than one occasion the Irishman lost control of his passion. The most vicious and disgustingly memorable was his monstrous assault on Manchester City's Alf-Inge Haaland.
Ending the Norwegian's career, Keane was given a five-match ban and £150,000 fine for his heinous challenge. A tackle born from Halaand accusing the Manchester United man of faking a cruciate ligament injury four years prior, Keane launched a profanity laced tirade after his so called revenge attack.
5. Vinnie Jones – 7
Love him or hate him, Vinnie Jones' tactics most certainly won Wimbledon a few games throughout their history. However, his impetuous nature lost them some as well.
Most of his sending offs were actually through accumulative bookings, with only one of his six dismissals in the Premier League a straight red. He also holds the record for fastest yellow card, at a rather remarkable five seconds.
4. Lee Cattermole – 7
With two red cards in his brief time at Wigan, Cattermole is best known for his clattering style at Sunderland. A combative defensive midfielder, the Englishman doesn't leave much to the imagination whwhenle he's on the pitch.
Flying into tackles over and over again, his physicality was noted by many a victim. Between 2008 and 2012, Cattermole was given his marching orders six times. Ninety bookings alongside his dismissals is impressively bad.
3. Patrick Vieira – 8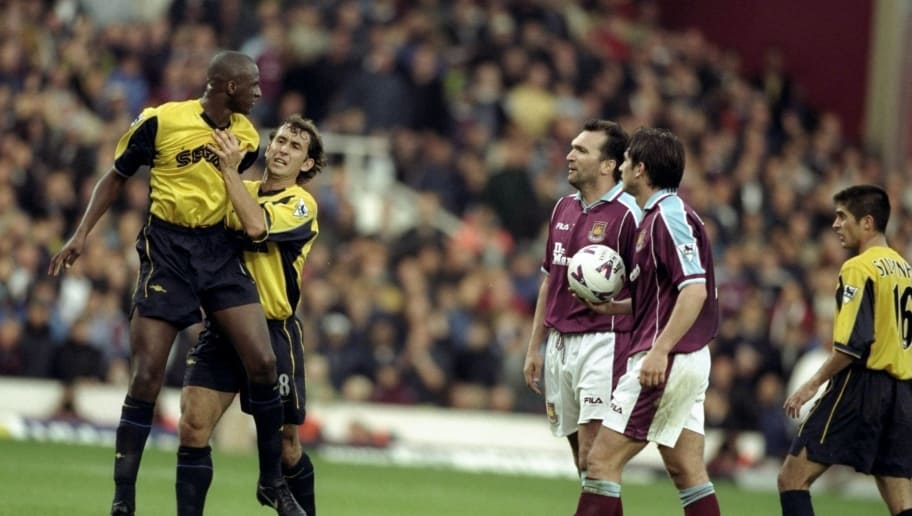 Signed months before Arsene Wenger took over at Highbury, Patrick Vieira revolutionised what was expected from a Premier League midfielder. Integral to Arsenal's success throughout his time at the club, the Frenchman came with an enviable engine, passing intelligence and a fierce passion.
The latter caused problems every once in a while. Against West Ham in late 1999, Vieira encountered what may well have been his worst moment while representing the club. Receiving a second booking after a late challenge on Paolo Di Canio, Vieira's frustration got the better of him as he spat at Neil Ruddock. A six match ban and £45,000 fine followed.
2. Duncan Ferguson – 8
'Big Dunc' was somewhat of a physical force. A spell at Newcastle United was book-ended by two longer stints at Everton, and it was with the Toffees that he picked up all eight of his red cards.
Never one to shy away from a challenge, any centre back who came up against the Scotsman knew he was in for a very rough day. Receiving a three month jail term for headbutting an opponent while at Rangers, you could even say that the Premier League saw Ferguson's softer side.
1. Richard Dunne – 8
With eight red cards, Richard Dunne shares this unwanted title. Three of them came with Everton, before five followed with Manchester City. Never the quickest centre back, the Irishman got caught cold more than once.
Still a fan favourite at the Eithad, Dunne wasn't the most technically gifted defender, but always wore his heart on his sleeve. While he may have headed for an early bath more often than most, 432 Premier League appearances is also a stat many find difficult to rival.
Global Express News