Gold Price Rises On Buying By Jewellers: 5 Things To Know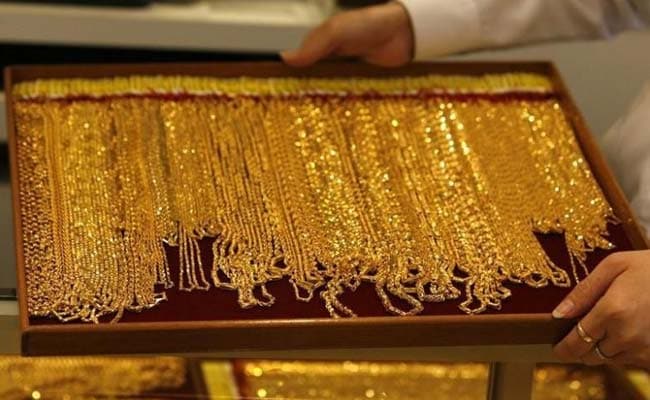 Gold price touched Rs 32,450 in Delhi today. A pick-up witnessed in buying by jewellers helped domestic gold price regain some of the strength, say traders. Gold price in the national capital surged by Rs 165 to Rs 32,450 per 10 grams, news agency Press Trust of India reported. Dollar strength against a basket of currencies, including the rupee, offset gold's safe-haven appeal. In the international market, gold price moved sideways, buoyed by safe-haven demand with upside potential restricted by a firm dollar and outlook for higher interest rates in the US. Spot gold was nearly unchanged at $1,311.51 per ounce, news agency Reuters reported.
Here are five things to know about gold price today:
1. Domestic gold price: In Delhi, gold of 99.9 per cent and 99.5 per cent purity bounced back by Rs 165 per 10 grams each to Rs 32,450 and Rs 32,300 per 10 grams respectively, according to Press Trust of India. Gold prices had declined by Rs 115 on Monday.
(Also read: SBI's Revamped Gold Deposit Scheme)
2. Domestic silver price: Silver, however, slumped below the Rs 41,000 per kg level. Silver prices fell by Rs 400 to Rs 40,900 per kg due to reduced offtake by industrial units and coin makers, PTI reported. Silver ready dropped by Rs 400 to Rs 40,900 per kg. On Monday, silver prices had eased by Rs 100 to Rs. 41,300 per kg.
3. Rupee vs dollar: The rupee breached the 68 mark against the US dollar on Tuesday. Weakness in the rupee against the US currency makes gold import costlier.
4. Global gold price: US gold futures for June delivery were down 0.5 per cent at $1,311.30 per ounce. The Federal Reserve – the US central bank – is widely expected to raise benchmark interest rates at its next policy meeting in June.
5. Higher interest rates tend to boost the dollar and push bond yields up, making greenback-denominated gold more expensive for other holders and denting its non-yielding appeal.
For the latest Election Results & Live Updates from Karnataka log on to NDTV.com. Like us on Facebook or follow us on Twitter for updates.
n_b