Former Pakistan PM Nawaz Sharif Gets 10 Years In Jail Over Corruption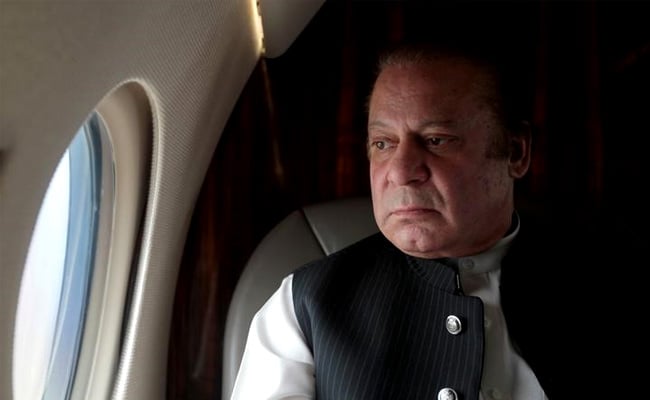 Pakistan's former prime minister Nawaz Sharif has been sentenced to 10 years in jail over corruption. The verdict comes days before the general elections in the country. His daughter Maryam Sharif has been sentenced to seven years in jail. Earlier in the day, the accountability court had dismissed Nawaz Sharif's petition seeking to delay by a week the announcement of the verdict in one of the four corruption cases against him.
Here are the live updates in Nawaz Sharif case
"We will take all legal and constitutional routes to fight for justice. Nawaz Sharif has always fought bravely": Shehbaz Sharif after former Pakistan Prime Minister Nawaz Sharif was sentenced to 10 years jail
The National Accountability Bureau (NAB) court today accused Nawaz Sharif and his family of being unable to legitimately show the money trail for the purchase of several luxurious properties in London, mostly in the mid-1990s, Reuters reported.
Pakistan Muslim League-Nawaz (PML-N), the party founded by Nawaz Sharif is one of three key parties contesting the general elections in Pakistan apart from Imran Khan's Pakistan Tehreek-e-Insaf and Pakistan Peoples Party headed by Bilawal Bhutto Zardari.
Nawaz Sharif was ousted by the Supreme Court in July 2017 and barred from politics for being "dishonest" by failing to report a monthly income of 10,000 Emirati dirham ($2,723) from a company owned by his son, news agency Reuters reported.
Maryam Sharif daughter, Maryam, who was sentenced to seven years in jail, was widely seen as his chosen political heir.
Nawaz Sharif has served as the prime minister of Pakistan on three previous occasions.
The Avenfield case was among the four corruption cases filed against the former PM and his children by the National Accountability Bureau (NAB) on the Supreme Court's orders in the Panama Papers case which disqualified Nawaz Sharif.
The verdict comes at a time when Nawaz Sharif's wife Kulsoom Nawaz is hospitalised in London. The counsel earlier in the day cited her poor health as the reason for the family's bid to have the verdict postponed.
The accountability court delivered its verdict today in the Avenfield Corruption Case, which pertains to the purchase of four flats in Avenfield House, Park Lane, London
General elections are scheduled to be held in Pakistan on July 25. Pre-poll surveys suggest a hung assembly.
In the lead up to the verdict, Nawaz Sharif's opponent Imran Khan has gained substantially.
Both Maryam and Nawaz Sharif are in London.
ndtc_world