Fears of corruption as Puducherry cricket team fields an 'all guest' team
Written by Bharat Sundaresan , Devendra Pandey | Baroda, Mumbai |
Updated: September 20, 2018 4:12:29 pm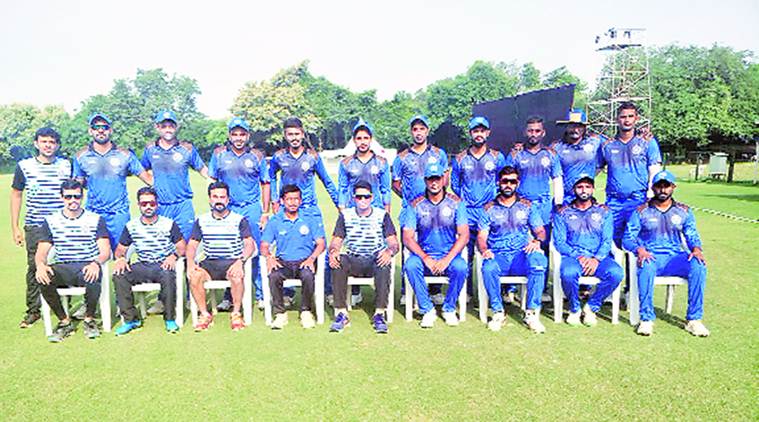 According to the complaints, none of the players picked for Wednesday's playing XI against Manipur were born in Puducherry. (Source: Express Photo)
Puducherry marked their arrival on the Indian domestic cricket scene with a resounding win and some controversy on Thursday. Their 8-wicket victory over fellow debutants Manipur in their Vijay Hazare Trophy opener with nearly 24 overs to spare at Baroda's Moti Baug came under a cloud with the BCCI and the CoA receiving two separate complaints against the union territory team's selection policy.
According to the complaints, Puducherry have more than the eligible number of outstation players in their squad. It was also pointed out that none of the players picked for Wednesday's playing XI were born in the union territory. One of the alarms, incidentally, was raised by veteran administrator and present convenor of Uttarakhand Cricket, Ratnakar Shetty, who has expressed his concern that such practices could eventually lead to a lot of "corruption".
"I was shocked to hear that BCCI has given special permission to include more than the (cap on the) number of outstation players in the team. This kills the spirit of the game and the rules of level playing field that was aimed when the eligibility rules were framed," Shetty writes in his email, accessed by The Global Express News, to BCCI general manager Saba Karim and CEO Rahul Johri.
"It also raises the question as to why only Puducherry has been given the special status. I am sorry to say that this decision is not in the interest of domestic cricket and will lead to lot of corrupt practices in future. It also puts all the other states where there was strict compliance to a disadvantage," it further reads.
Puducherry's three official outstation "professionals" for their maiden domestic season are veteran Mumbai all-rounder Abhishek Nayar, one-time India pacer Pankaj Singh and seasoned batsman Paras Dogra. They bowled out Manipur for a meagre 120 in 37.1 overs with Sagar Trivedi, who was playing limited-overs' cricket in Mumbai colours till as recently as January 2018, snaring three wickets. Left-arm spinner Sagar Udeshi, who according to the other complaint hails from Mumbai and is a regular face in local cricket there, wrapped up the Manipur middle-order to finish with four wickets. Puducherry's successful run-chase was orchestrated by an unbeaten 63 by opener Shashank Singh, who too like Trivedi played white-ball cricket for Mumbai till last season.
The other complaint, filed by G Chandran, requested the CoA to "verify" whether all 11 players who turned up for Puducherry on Wednesday fulfilled the "qualification rules" for being registered as a "guest player". The complainant has also provided details of each player's background, their profiles and copies of some of the players' Tamil Nadu Cricket Association (TNCA) registration forms along with the email. Chandran had written to the BCCI and CoA two days prior too about the same issue.
"The above details clearly indicate that the entire eleven of Team Puducherry does not contain a single player of Puducherry origin and it's very obvious that in the name of promotion players from all other states have been given a chance thus denying the local players of Puducherry any opportunity. If you look at the North Eastern states, it is very apparent that they have mostly abided with the BCCI Rules," the email, also accessed by this paper, reads. For the record, Manipur went in with a solitary "guest" player in former Services' mainstay Yashpal Singh. According to the email, a number of players in the Puducherry squad are based either in Mumbai or Tamil Nadu.
'Work/education grounds'
Sources in the Puducherry team though have dismissed these claims with one team official referring to the complaints as attempts at derail the new team's elevation to this stage. He also insisted that all the players, except Nayar, Pankaj Singh and Dogra, had links to Puducherry either through work or education.
"Some of them are employed with MRF, which has offices in Puducherry, for a few years or other companies based there and have contracts too. Some others are studying in colleges based there," he said. He also lamented about how the lack of support from the TNCA over the years had led to a lack of development of young players in the territory, citing how Puducherry had rarely, if ever, had representation in the Tamil Nadu Combined Districts' team in their annual clash with the City XI. When asked specifically to explain some of the players' backgrounds mentioned in the complaint, he said that it was purely a case of logistics that made them seem like not hailing from Puducherry.
"Take Fabid's (Farooque Ahmed) case. He hails from Mahe disctrict, which is located in Puducherry. But when he was born (in the year 1995), there was no hospital there, so his family had to travel to Thalassery where he was born," the source said. The BCCI's rules state that in-order to represent a state team as a "local", a player has to either show proof of "1-year residency", "salary slips for 3 years" in case of work-related residency, or "a certificate from the educational institution" if he's a student based out of there.
Incidentally, The Global Express News has learnt that some office-bearers within the BCCI had objected to Puducherry's selection protocol and had even removed 12 players from the original list. But it's further learnt that it was the CoA that overturned the decision and decided to give them a chance. Sources close to the CoA, meanwhile, reveal that the committee had decided to waive off the eligibility clauses for the nine new teams, including Puducherry.
The teams had originally been given a deadline of August 31 to confirm their professional players, and it's learnt that even this had been waived off. They also said that the controversy was only a case of Puducherry, who play their second game on Friday in Anand against Uttarakhand who have Shetty as their convenor, deciding to avail the opportunity to field outstation players while the other teams chose not to.
For all the latest Sports News, download Global Express News App
iecr