Disappointed Shishir Hattangadi says report on Rahul Johri disrespects those who deposed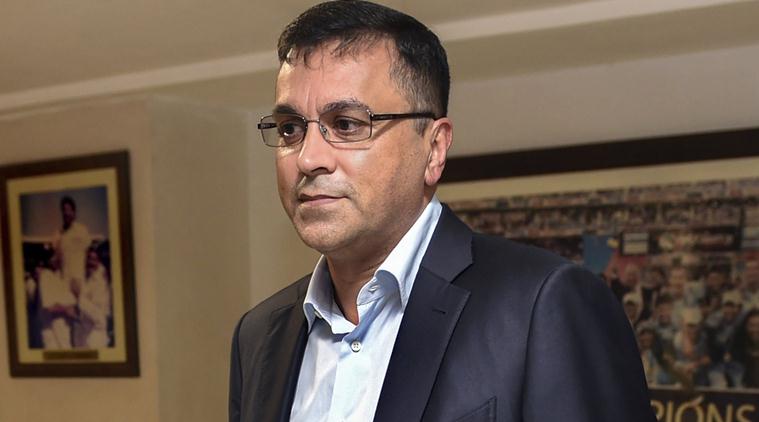 BCCI CEO Rahul Johri outside the BCCI HQ, after the three-member probe panel cleared him of sexual harassment charges in Mumbai on Wednesday. (Source: PTI)
Shishir Hattangadi, one of the persons who deposed in front of the probe panel that has dismissed the sexual allegations against BCCI CEO Rahul Johri, has termed their findings as "victim shaming". "By saying that its malafide, destructive, malicious, they are insulting to the people who have come forward. There are two things in this. I'm not here to judge people but if some people have come forward and deposed, respect their deposition. It is victim shaming," Hattangadi told The Global Express News. Hattangadi had deposed after he had alleged that his friend was harassed by Johri.
The panel wasn't unanimous in its assessment that Johri was innocent. While two members, Rakesh Sharma and Barkha Singh, dismissed the allegations, the third member, Veena Gowda, has questioned Johri's conduct and has advised him to undergo 'gender-sensitivity counselling'. Hattangadi says that the differences between panel members suggests there is "something amiss". "There are questions needed to be asked. And for this I don't need to be Sherlock Holmes to realise that there is something amiss … The most dominant in the probe was Veena Gowda. That is why after the probe happened I said in public statement that I'm happy the way questions were asked because Veena Gowda was actually sticking to the brief, she was sticking to ambit of my involvement. The person who was asking the relevant questions was Veena Gowda."
Hattangadi's criticism comes after the head of the panel Justice (retd) Rakesh Sharma had not only cleared the allegations against Johri but termed the accusations as "false, baseless and fabricated and manufactured with an ulterior motive to harm Mr Rahul Johri". Another panel member Barkha Singh called the allegations "motivated and fabricated".
However, the third member Veena Gowda deemed behaviour as "unprofessional and inappropriate" and suggested "gender-sensitivity counselling".
Hattangadi termed the differences in the findings of the three-member probe panel as "unnerving" and disappointing.
"If one person is saying you need help, you need counselling and you behaved not unbecoming of a CEO and two people have given a contrary opinion, it talks about the dichotomy of a probe and that is for me questioning wisdom of people. If two people are saying he is a pope and needs to stay at the Vatican and one person is saying he needs to go to the counsellor, you judge yourself. They are not only on different pages but they are in different books and that too me is unnerving. I'm disappointed with the dichotomy of the probe between the three people," Hattangadi says.
In his findings, Sharma wrote that the complaints against Johri were unsubstantiated and mischievous. "No adverse action need to be taken against Mr Rahul Johri on the basis of these mischievous, false, fabricated, unsubstantiated complains, e-mails, tweets etc on social media."
In her findings, Barkha Singh, former head of Women Commission, too toed a similar line. "In my opinion, such kind of motivated and fabricated allegations will diminish the status of women and the job opportunity for them. Such complaints will also have an adverse effect on the fight for equality for women," she wrote.
As for Gowda, she said, "The conduct of Mr Rahul Johri at Birmingham, as a CEO of an institution such as BCCI is unprofessional and inappropriate which would adversely affect its reputation and the same has to be looked at by the concerned authorities." She further noted that, "it's essential that Mr Johri undergo some form of gender sensitivity counselling/training".
Not a clean chit for Johri: BCCI official
New Delhi: The BCCI treasurer Anirudh Chaudhry has said that the findings of the panel should not be seen as "clean chit" to Rahul Johri. He cited the fact that one of the panel members Veena Gowda had offered contrasting opinion as validation of his stance. "This is clearly not a clean chit as is being propagated by a section of officials. Ms. Veena Gowda, a member of the Inquiry Committee has observed that the Conduct of Mr. Rahul Johri at Birmingham, as a CEO of an institution such as BCCI is unprofessional and inappropriate which would adversely affect its reputation and the same has to be looked at by the concerned authorities," Chaudhry told The Global Express News.
Verma to challenge probe report
Kolkata: Aditya Verma, the petitioner in the 2013 IPL spot-fixing case, is set to move court, challenging the independent committee's decision to exonerate Rahul Johri. Verma, whose petition eventually led to the Lodha reforms in the BCCI, said his lawyer will raise the issue before the Supreme Court during the cricket board-related hearing on November 27. "Yes, I will challenge the decision before the Supreme Court. If you look at the recommendations of Veena Gowda (independent committee member) and also what Diana Edulji (member of the Committee of Administrators) said… It was a split decision, 2-1 (at the independent committee)," Verma said.
iecr