Day after his abduction, J&K policeman's body found
Written by Naveed Iqbal | Shopian |
Published: July 7, 2018 5:14:26 am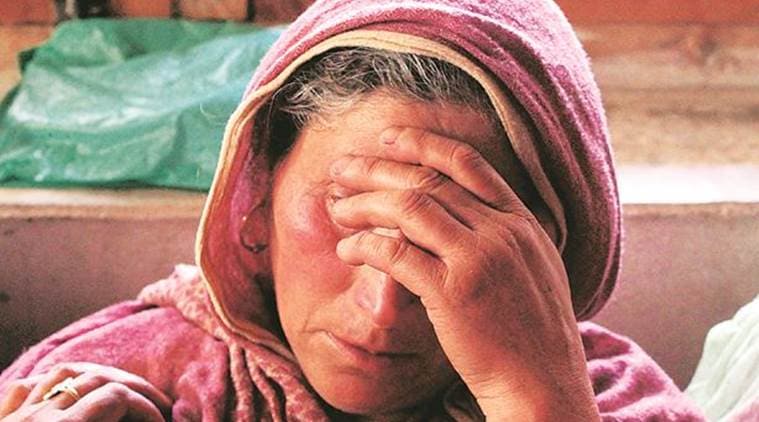 Mother of constable Javaid Ahmad Dar during his funeral. (Express Photo by Shuaib Masoodi)
A day after constable Javaid Ahmad Dar was abducted near his house in Vehil village of Shopian district, his body was found near a stream by villagers in Pariwan, Kulgam, on Friday. He had three gunshot wounds in the chest, Shopian SSP Sandeep Chaudhary told The Global Express News. Dar, 25, served in the personal security escort of former Shopian SSP Shailendra Mishra. Mishra and his team were instrumental in killing several militants in south Kashmir in the last few years, sources said.
Dar was with him on his last six postings, Mishra told The Global Express News. "He was with me until 2 o'clock yesterday and sought a couple days off to help his parents prepare for Haj. It is clear that he was abducted with the motive of killing him," said Mishra, who was at Dar's funeral on Friday morning.
According to his family, Dar had returned home for a few days on Thursday afternoon. He stepped out with friends just before dinner. On his way home, he stopped at a medical store, barely 50 metres from his house.
The bulb outside the store in Vehil village was shattered. The shopkeeper, Ishfaq Hussain, said it was broken by "one of the three or four men" who asked Dar to sit in the car they drove up in.
"He was standing at the doorstep of the shop. His older brother, Imran, was inside the store talking to us. Some men drove up and asked Dar to come along, and said they would send him back in five minutes. One of them smashed the bulb with his gun and took everyone's mobile phones, perhaps to prevent recordings of the incident." He added that the policeman was not forced into the car, but he "did ask for help as he was taken away".
Imran ran home to inform his family. The police received the first call around 8.45 pm, and subsequently launched a search operation. No one in the household slept that night. Dar's cousin Muzaffar said they kept hoping that the abductors would release him. "We did not even want to think that he would return riddled with bullets," he said.
While Dar's mother wept, his brother was silent and three sisters were distraught. His parents were unsure whether they would be able to undertake Haj. Relatives and neighbours filled the house, all blaming the situation in the Valley "that makes us kill our own".
In hushed voices, they brought up a photo of Dar that had been posted on social media after he went missing. "He was stripped. He seemed cold and was looking up the camera," they said. Their two-storey house is surrounded by an apple orchard the family owns. They were soon to move into a new house.
Dar joined Jammu and Kashmir Police in April 2012. His family said he never felt threatened or worried about his safety. "He was doing his job like so many others," Zahira, a cousin, said. Police have not named any group that may be involved in the abduction and killing of the constable.
For all the latest India News, download Global Express News App
ie india