Written by Pratap Bhanu Mehta |
Updated: July 14, 2018 12:10:31 am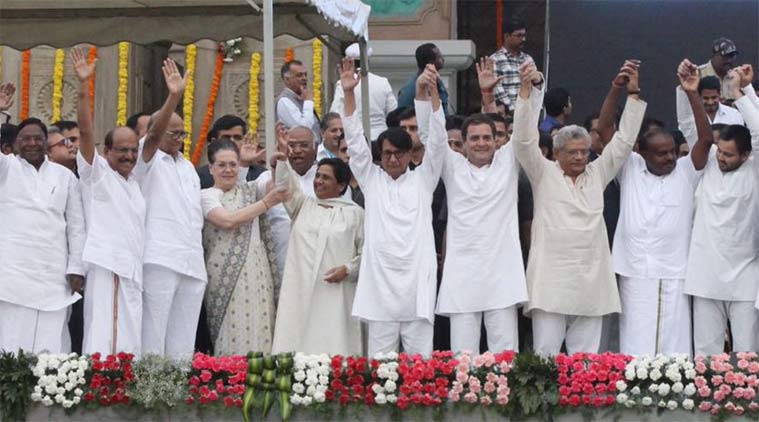 Can the Opposition begin the parliament session by showing some unity? (Express Photo)
The narrow imperatives of political survival are fuelling much talk around Opposition unity. But looming in the background are two larger challenges to the republic. The first is the unprecedented, at least in recent times, the ascendancy of a poisonous communal discourse legitimised by the top leadership of the country that threatens to rip apart the republic in coarseness and violence. The second is a concerted assault on all kinds of institutions: Media, Parliament, judiciary, universities. Admittedly, Indian governments across political parties have a long record of institutional perfidy. But in some areas, there is a distinct danger now that many institutions will not survive. The Opposition is itself crying hoarse that it is being victimised by institutions. The use of state institutions to target political opponents is increasing; and may likely reach a crescendo in an election year.
The Opposition is squirming under this institutional assault; they are now claiming to be victims of the arbitrary use of state power. But their pleas of individual victimisation have not led them to think deeply about what it would mean to combat such a deep institutional crisis. There are four reasons for this. Many in the Opposition may have skeletons in the cupboard that make them particularly fearful of deep institutional reform. Second, the governing styles of many of these parties, from the SP to the TMC does not make them poster children of institutional integrity. The violent destruction of institutions, from local elections to universities, that the TMC is engaged in West Bengal, for example, hardly makes it the torch-bearer of institutions. Third, institutional reform is often simply not politically exciting. Most parties think it will not ignite mass mobilisation. And finally, we are a political culture that still deeply personifies political power. We see political drama as a contest between vice and virtue of individuals (which is often important), not as a battle for institutional forms.
But at this historical juncture, there is a crying need for this to change. Whichever Opposition parties come together, they will have to draw up a new minimum programme. And one way to begin is to reopen a political debate on institutions and sign on to a charter for institutional reform. Currently, when the Opposition parties take on the government on institutional functioning and their own victimisation, they, for the most part, come across as exhibiting sour grapes. Most of the public brushes off what the BJP does, in terms of bad appointments, using the CBI or income tax department as only a more ruthless and determined version of what the Opposition used to do. They are not able to capitalise on the government's assault on institutions.
A striking measure of this fact is that the Opposition has let the BJP corner even the debate over institutional reform. Ideas like one nation-one election are fraught ideas, but they dominate the discussion. The autonomy the government is promising to universities is a chimera, but it has still run away with the debate. If the control of the judiciary, the misuse of CBI and ED, the total breakdown of Parliament, the subversion of constitutional forms, is such a serious issue, where is the credible Opposition challenge on these issues going to come from?
The Opposition may not have fully learnt yet that if they don't hang together, they will all hang individually. But there are stirrings of consciousness in that direction. Equally, that consciousness has to be accompanied by a realisation that India will need to reset a lot of institutions. Without institutions, there can be no credible mediation of social conflicts, and even the most powerful forces will find it difficult to govern India. Without a commitment to shared institutional forms, even Opposition unity cannot hold. For, it will always be easy to subvert it by arbitrary uses of state power.
The last time institutions became a focal point for political mobilisation was in the debate over the Lokpal Bill, a mobilisation that was the death knell for the UPA. So here is a simple challenge for the Opposition. Can they come together and create a united charter on sensible institutional reform? Such a charter would be their most meaningful common programme, one that will shift the terms of the debate, and far outlast individual schemes.
There are lots of low hanging fruit. The Parliament session is about to begin and one can only hope that this one does not repeat the travesties of the Budget Session. Many individual MPs, like Jay Panda in this instance, have proposed very sensible rules for the conduct of parliamentary proceedings. These simple rules would involve measures like "if X number of MPs want a debate on a particular matter, the Speaker has to allow the debate". Should some committee proceedings be telecast? What should voting procedures be? Should voice vote be disallowed? The House of Commons has codified many such rules.
Can the Opposition begin the parliament session by showing some unity and demanding these small baseline reforms? At the other end of the spectrum, instead of whining about the CBI and ED, about campaign finance (where they are all complicit) the Opposition could draw up a more ambitious charter of sensible reform across a range of institutions. This will not just be a test of their ability to work together. It will also be a signal that they now grasp the depth of the crisis facing Indian institutions. Some parties will oppose, but it will also be a test of their good faith. Some may have to jettison some members of the old guard but that may not be a bad thing. It will also prevent the government from running away with the debate on institutional reform.
This is easier said than done for all the reasons mentioned above. But the political calculus now has to be different. These very institutions are being used to target the political opponents of the government in a more systematic way. The new ruthlessness in institutional decimation, including open contempt of the Supreme Court, as we are seeing in Delhi, should concentrate the Opposition's mind. The Opposition may be hoping that in a contest between opportunism and fanaticism, opportunism wins. But its case will be stronger, a little more reassuring if it grasped the fact that our core institutions are now on the line. The Opposition has to not just offer the comfort that they will be less ruthless in using these institutions to service power. They have to show that, their past sins notwithstanding, they now understand the importance of institutional integrity. And they will draw a new charter for it.
For all the latest Opinion News, download Indian Express App
More From Pratap Bhanu Mehta
Blame it on the liberals

Liberal-bashing is fun: You can say that they are not liberal enough and target them for being liberal too ..

A crisis in plain sight

Delhi saga showcases poison of recrimination, institutional subversion, pettiness at highest levels ..

Trump's disruptions

In the end, what he is doing may have more significance than who he is ..
ietz