Bring ordinance to counter top court ruling on: Lok Janshakti Party
By: Express News Service | New Delhi |
Published: May 18, 2018 6:41:06 am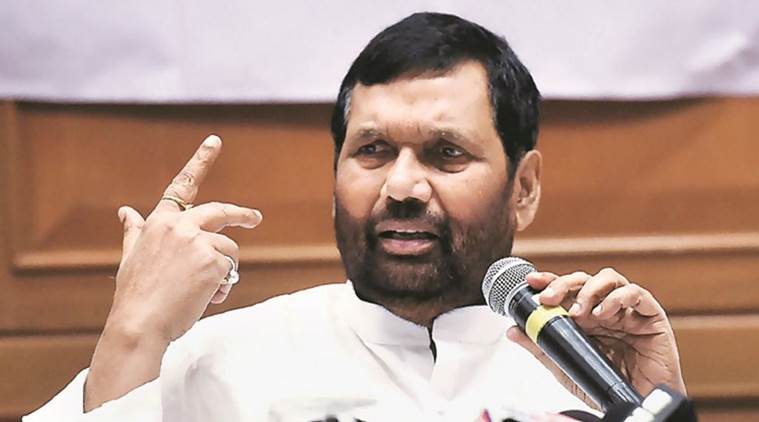 Lok Janshakti Party chief Ram Vilas Paswan
Lok Janshakti Party (LJP), an ally of the BJP, Thursday demanded that the Centre should issue an ordinance at the earliest to counter the Supreme Court's March 20 order that bars the immediate arrest of individuals accused of discrimination under the Scheduled Castes and Scheduled Tribes (Prevention of Atrocities) Act.
Lok Sabha member and LJP Parliamentary board chairperson Chirag Paswan wrote to Prime Minister Narendra Modi following a meeting of party office-bearers on Thursday.
In the letter, Chirag highlighted the concerns expressed by party office-bearers over the apex court's response in the last three hearings on the review petitions filed by the government in this matter.
"Summer vacation of the Supreme Court will begin…, and then the case will be heard after the vacation only. Hence, it is a request to bring an ordinance in this regard to maintain SC/ST (prevention of atrocities) Act in its original form," the letter stated.
The LJP was the first political party to file a review petition against the March 20 order of the top court, Chirag claimed, adding, that the summer vacation is a long period, and during this time incidents of atrocities of SC/ST could increase.
Addressing a press conference, LJP chief and Union Minister Ram Vilas Paswan said that there was unrest among SC/ST organisations, the BJP and other NDA allies over the delay in the court's judgment.
Paswan added that LJP has appealed to the Prime Minister to bring about the ordinance as soon as possible.
For all the latest India News, download Global Express News App
ie india