BJP chief slams 'desperate' Congress's 'opportunist' offer
By: Express News Service | New Delhi |
Updated: May 18, 2018 5:57:12 am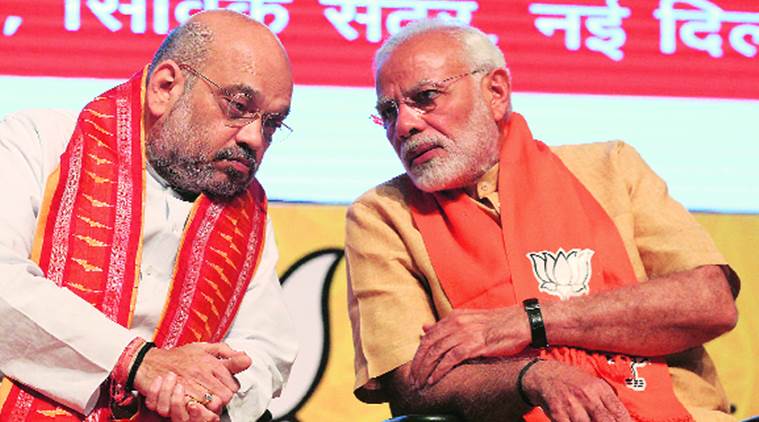 Prime Minister Narendra Modi with BJP president Amit Shah at the inauguration of the combined BJP national executive committee meeting of all the morchas in New Delhi on Thursday. Amit Mehra
Criticising the Congress for its campaign against the BJP over political developments in Karnataka, BJP president Amit Shah has alleged that democracy was murdered the moment a "desperate" Congress party made an "opportunist" offer to the JD(S) to form the government in the southern state for "petty political gains".
Reacting to the Congress calling Karnataka governor Vajubhai Vala's decision to invite BJP leader B S Yeddyurappa to form the government as "murder of democracy", Shah tweeted: "The 'Murder of Democracy' happens the minute a desperate Congress made an 'opportunist' offer to the JD(S), not for Karnataka's welfare but for their petty political gains. Shameful!"
The BJP chief also cited the decrease in Congress tally in the Karnataka elections —- from 122 in 2013 to 78 seats in results declared on Tuesday —- and maintained that his party, with 104 seats, has the mandate to form the government. He tweeted, "Who has the people's mandate in Karnataka? The BJP, which has won 104 seats. Or Congress which dropped to 78 seats, whose own CM and Ministers lost by big margins. JD(S) who won only 37 seats and lost their deposits on several others. People are wise to realise."
Taking the attack to Rahul Gandhi, Shah stated in another tweet: "President of the Congress obviously doesn't remember the glorious history of his party. The legacy of Mr. Rahul Gandhi's Party is the horrific Emergency, blatant misuse of Article 356, subverting the courts, media and civil society."
Rahul had earlier hit out at the BJP for what he termed the saffron party's "irrational insistence" to form the government in Karnataka despite "not having the numbers". He stated that while the BJP will celebrate its "hollow victory", India will mourn the "defeat of democracy".
The BJP has 104 MLAs in the Karnataka House, eight short of the magic figure of 112. The Congress and JD(S), which announced a post-poll tie-up, have won 78 and 37 seats respectively.
For all the latest India News, download Global Express News App
ie india