Bitcoin extortion: Arrest warrant against ex-BJP MLA Nalin Kotadiya
By: Express News Service | Ahmedabad |
Published: May 18, 2018 5:26:47 am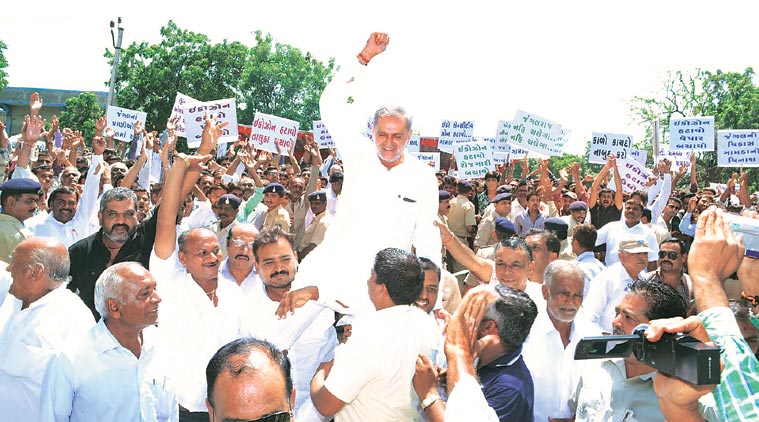 Nalin Kotadiya, an accused in the case, has been absconding (Express Photo)
A sessions court on Thursday issued an arrest warrant against former BJP MLA Nalin Kotadiya, absconding accused in the case of abduction of a Surat-based builder and the extortion of Bitcoin worth crores from him. The state CID (crime), which is probing the case, had moved court after Kotadiya didn't appear despite repeated summons and attempts to trace him. Earlier, the CID officials had twice issued summons under section 160 of the Code of Criminal Procedure but the former MLA from Dhari in Amreli district didn't respond. On May 7, Kotadiya had faxed his reply, stating that he would appear on May 12 but he failed to do so. Kotadiya is alleged to have been involved in the crime for which he allegedly received money from the other accused.
Kotadiya has been accused of being one of conspirators behind the kidnapping and extortion in February in Gandhinagar. A team of policemen from Amreli, led by police inspector Anant Patel, abducted Surat builder Shailesh Bhatt, his friend Kirit Paladiya and Bhatt's driver in Gandhinagar and kept them in illegal confinement. Later, probe revealed that it was all planned by Kirit Paladiya with the help of policemen, including Amerli SP Jagdish Patel, who has also been arrested.
Paladiya had kept 119 Bitcoins worth nearly Rs 9 crore in his digital wallet which actually belonged to Bhatt since the former knows how to trade in cryptocurrency. On the day of abduction, Paladiya portrayed as if the Bitcoins have been transferred to accused policemen. After the incident, CID has revealed, Paladiya shared the amount with the accused. "From the beginning, the accused persons had hatched the conspiracy and had kidnapped Shailesh Bhatt to forcefully get Bitcoins as well as monitory benefits.
Accused Kirit Paladiya, Ketan Patel, Jatin Patel and Nalin Kotadiya had gathered at Circuit House in Surat and had conspired to kidnap Shailesh Bhatt and Ketan Patel. They had spoken to Superintendent of Police Jagdish Patel… According to the plan and part of conspiracy, Shailesh Bhatt was kidnappned…" CID has stated in its application moved in the court for issuance of arrest warrant.
For all the latest India News, download Global Express News App
ie india