Bangladesh vs Afghanistan, Asia Cup 2018 Highlights: Afghanistan register massive 136 run win over Bangladesh
Bangladesh vs Afghanistan, Asia Cup 2018 Highlights: Rashid Khan has done the job with the bat and the ball during the Indian Premier League and more of that was witnessed in Abu Dhabi as he produced the gods in all areas to prove to be the difference maker. His 31-ball fifty propelled Afghanistan to a confident 255 run total from a position of mediocrity. In reply, Bangladesh never really took off and lost wickets at regular intervals. He bagged two wickets and added a run out for a resounding show on his 20th birthday. The entire Afghanistan bowling unit pitched in to ensure a comprehensive 136 run win in Abu Dhabi.
Bangladesh have been bowled out for 119 and Afghanistan win by a massive 136 runs. Mujeeb with the last wicket and Rubel Hossain is adjudged leg before. Doesn't read the googly and hits the back pad. Umpire is quick to raise his finger.
RUN OUT! Abu Hider had a decent debut with the ball but is caught short at the non-striker's end and can only muster 1 run from 1 ball. Mosaddek Hossain slaps the ball to the left of Rashid Khan. But the birthday boy fields and hits the stumps first time. Bangladesh nine down
Every game pivotal to teams like Afghanistan and it is quite visible today.
There's no dead rubber for Afghanistan….every game is a celebration from them. First Sri Lanka and Now, Bangladesh. If they win two out of the three tosses in Super-4, they will reach the finals. #AsiaCup

— Aakash Chopra (@cricketaakash) September 20, 2018
GONE! Mashrafe Mortaza with a big hit. But this is only high in the air but no distance to it. Bangladesh skipper is dismissed for a duck from 11 balls. In the air for a very long before finally being cusped by Aftab Alam. Bangladesh are 110/8 in the 37th over
GONE! First ball, wicket for Rahmat Shah. Mehidy Hasan with a poor shot and he walks back for 4 runs from 10 balls. Looped up outside the off, Mehidy goes for the big hit but only ends up getting a leading edge to Shahidi for a simple catch. Bangladesh are 100/7 in the 34th over and drinks come on to the field
BOWLED! Gorgeous ball by Rashid Khan and now the other well-set batsman in Mahmudullah walks back having scored 27 runs from 54 balls. What a ball that by Rashid. Mahmudullah expects it to straighten after pitching but it moves away just a touch and beats the outside of the bat to strike the off stump. Bangladesh are 90/6 in the 30th over
Shakib Al Hasan is dismissed for 32 and that is a big blow for Bangladesh and the chance they had in the chance. Rashid Khan with the ball now. Beautiful delivery. Quickens after hitting the surface, beats the inside of the bat and would have gone on to hit the middle stump. Considered the review but Bangladesh have no reviews left. Bangladesh are 79/5 in the 24th over
Mahmudullah is adjudged not out on lbw off Rashid Khan. Afghanistan discuss and go for the review. This just a ball after a half appeal for leg before. Fair delivery from the Afghanistan spinner, no edge involved. Two reds and umpire's call on the ball hitting the outside of the leg stump. Decision of not out stands.
Short by Shenwari and it is thrashed away for a four by Mahmudullah. Poor bowling this and Bangladesh get a welcome boundary. Bangladesh trying to recover from 59/4 in 20 overs
50 up for Bangladesh! Mahmudullah and Shakib Al Hasan are in the middle and they are trying to rebuild the innings. But it will take a lot to get on to push for a win here.
GONE! Gulbadin Naib strikes again and it is Mohammad Mithun who has to walk back to the pavillion for 2. Excellent straight full-length delivery that cramped up Mithun for space. He tried to get a swing on it but completely missed the ball on the way to stumps. Knocked out cold! BAN 43/4
GONE! Gulbadin Naib strikes again and it is Mohammad Mithun who has to walk back to the pavillion for 2. Excellent straight full-length delivery that cramped up Mithun for space. He tried to get a swing on it but completely missed the ball on the way to stumps. Knocked out cold! BAN 43/4
WICKET! Gulbadin Naib dismisses Mominul Haque. Haque went hard on a wider delivery. The ball went to the wicketkeeper Mohammad Shahzad. Appeal from Bangladesh but the umpire not interested. Shahzad was convinced there was a little edge off the bat. Afghanistan call for a review. The replays confirm a little edge. And Bangladesh are in deep deep trouble. BAN 39/3
Liton Das is given out leg before. Bangladesh go for the review. Looks plumb to the naked eye. Only an inside edge could be the saviour. Not a no ball, no inside and all reds. GONE! Liton Das walks back having scored 6 runs from 14 balls. Aftab Alam getting the ball to jag back in and Das is slow to defend. Bangladesh are 17/2
GONE! Mujeeb Ur Rahman strikes and it is the debutant Nazmul Hossain who has smacked a ball to Aftab Alam a point. Went hard towards the ball, but it gets a leading edge and the ball goes to the fielder. BAN 15/1
Liton Das and Nazmul Hossain are off to a flying start. Both the openers are scoring runs in boundaries and bring up the total to 14/0 in 3 overs.
Liton Das and debutant Nazmul Hossain come out to open the innings for Bangladesh. Aftab Alam starts with the ball for Afghanistan. CHASE IS ON!
FOUR! Rashid Khan finishes with a boundary and 19 runs from the final over. Afghanistan finish with 255/7 . Rashid remains unbeaten on 57 from 32 balls and Gulbandin Naib on 42 from 38 balls
Birthday boy on fire !! what a way to celebrate with such a special inn like that … few wickets with the ball will be the icing on the cake.. happy birthday @rashidkhan_19

— Harbhajan Turbanator (@harbhajan_singh) September 20, 2018
FOUR! FIFTY! Birthday half century for Rashid Khan. Pitched full and outside off, slices it and the ball goes racing away towards the deep backward point region for a four. Brings up his fifty in 31 balls
FOUR! Another boundary! Rashid comes down the track to nail the pull to the deep mid-wicket boundary for four.
FOUR! Poor, poor fielding in the deep and the attempted catch by Rubel Hossain is converted into a boundary. Rashid Khan won't mind one bit. Mashrafe Mortaza isn't pleased
Well bowled penultimate over by debutant Abu Hider Rony to concede just 7 runs. He finishes with figures of 9-1-50-2 and Afghanistan are 236/7 after 49 overs
NO BALL! FOUR! Mortaza oversteps and the low full toss is smacked for a boundary towards the long off region by Rashid Khan. No one there to cut it off and Afghanistan are making quite an impact in the death. A boundary towards deep extra cover to end the over. Afghanistan have scored 48 runs in the last 4 overs
FOUR! FOUR! Slower one by Rubel Hossain, full towards right-handed Naib and he clears his front leg for a boundary. Two balls later, Rashid gets into the act. Short by Rubel and it is hooked away for a boundary which goes running towards fine leg. Next ball, SIX! Once again a short ball, this one is quicker, hooks it over deep backward square leg fence for a six. 17 runs in the over
Shakib Al Hasan finishes with figures of 10-1-42-4 and has been the difference maker in this first innings. Gulbadin Naib and Rashid Khan would aim to provide Afghanistan with a surge late on. Six overs to go, Afghanistan are 181/7.
GONE! Nabi is adjudged leg before and Shakib gets his fourth wicket. Nabi walks back having scored 10 runs from 24 balls. Straightener from Shakib, slows down a touch and goes in with a arm. Nabi goes for the sweep and misses it. Afghanistn are 160/7 in the 41st over
GONE! Well-set Shahidi is dismissed for 58 runs from 92 balls. Rubel Hossain gets the wicket. Shahidi tries to run it down to third man but doesn't get the angle right. Comfortably into Liton Das' gloves. Afghanistan 150/6 in the 38th over
GONE! Shenwari goes for the big heave and misses completely. Who else but Shakib breaking the stand. Shenwari walks back after scoring 18 runs from 31 balls. Nice and loopy delivery from Shakib, invites Shenwari to go after it but the Afghan batsman misses it. Shakib with his third wicket of the match. Afghanistan 139/5 in the 34th over
FOUR! FIFTY! Hashmatullah Shahidi brings up his fifty with a boundary. Gets to the milestone in 81 balls. Shahidi goes down on his knee and sweeps the flighted delivery by Mominul towards deep backwards square leg for a four.
Beautifully swept away for a boundary by Shenwari. Poor ball by Shakib, on the pads, down the leg side and on the pads, Shenwari sweeps it through backward square leg for a four. Afghanistan are 128/4 after 30 overs
BOWLED! Afghanistan skipper Asghar Afghan is bowled by Shakib Al Hasan for 8. Lapse in concentration as he came down the track. Didn't read the ball well, took an inside edge and rattles the stumps. Bangladesh go four down just after crossing the 100 run mark
Boundary for Afghanistan in the 15th over. First boundary for Afghanistan since the 5th over. Shahidi comes down the track to Mehidy Hasan and pulls it through deep mid-wicket for a boundary
10 overs gone – Afghanisan 38/2. It has not been the best of starts for Afghanistan with the bat as they have lost a couple of wickets in the first powerplay, which has put them on the backfoot. Debutant Abu Hider has troubled the batting line-up, and he looks to be in fine touch in his debut game.
WICKET! Abu Hider strikes once again, and it is Rahmat Shah has been clean bowled. Full length delivery that just swung inside and Shah could not get a bat on to it. AFG 28/2
GONE! The debutant Abu Hider strikes in his first over and look at the celebrations. Short and wide delivery and Ihsanullah takes a swing at it hard. But he founds Mohammad Mithun at mid-on. AFG 10/1
Mohammad Shahzad and Isanullah open the innings for Afghanistan and Rubel Hossain starts with the new ball for Bangladesh.
The players, the umpires and match officials are coming out on the field and we will have National Anthems before the start of the play. First we will have Afghanistan's National Anthem followed by Bangladesh's National Anthem.
Afghanistan (Playing XI): Mohammad Shahzad(w), Ihsanullah Janat, Rahmat Shah, Asghar Afghan(c), Hashmatullah Shahidi, Samiullah Shenwari, Mohammad Nabi, Gulbadin Naib, Rashid Khan, Aftab Alam, Mujeeb Ur Rahman
Bangladesh (Playing XI): Liton Das(w), Nazmul Hossain Shanto, Mohammad Mithun, Shakib Al Hasan, Mahmudullah, Mosaddek Hossain, Mehidy Hasan, Mashrafe Mortaza(c), Abu Hider Rony, Rubel Hossain
Ashgar Afghan: We will bat first. Samiullah Shenwari is playing today. That's the only change. I think it will be a good batting track and we are looking at a score around 250.
Mashrafe Mortaza: We would have batted first as well. We have made three changes. Tamim Obviously is not here, Mushfiqur and Mustafizz are out too. Two debutants Abu Hider Rony, Nazmul Hossain Shanto. And another one…er! I have to check. Looks to be a good wicket to bat on and hopefully it will get better. We have to restrict them to a low total and build pressure on them. Our batters have to step up because they are experienced and we have to handle it well.
Afghanistan win toss, elect to bat first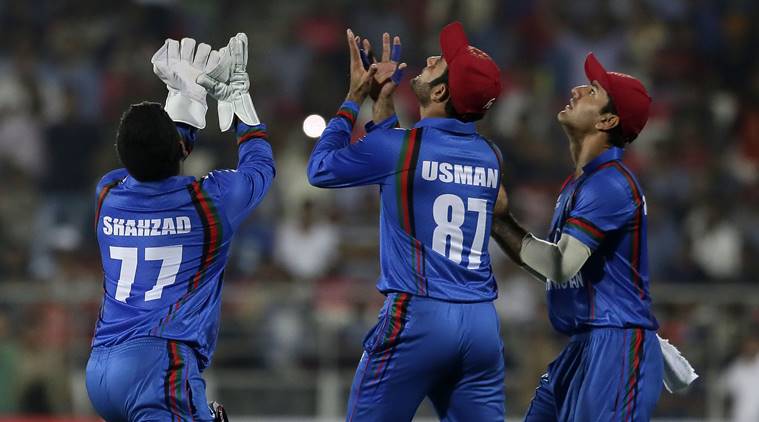 Bangladesh vs Afghanistan Live Cricket Score, Asia Cup 2018 Live Cricket Streaming: Bangladesh will face Afghanistan. (AP Photo)
Afghanistan Probable XI: Mashrafe Mortaza (C), Rubel Hossain, Mustafizur Rahman, Mominul Haque, Liton Das, Shakib Al Hasan, Mushfiqur Rahim, Mohammad Mithun, Mahmudullah, Mosaddek Hossain and Mehidy Hasan.
Bangladesh Probable XI: Asghar Afghan (C), Hashmatullah Shahidi, Mohammad Nabi, Najibullah Zadran, Gulbadin Naib, Rashid Khan, Aftab Alam, Mujeeb Ur Rahman, Mohammad Shahzad, Ihsanullah Janat and Rahmat Shah.
iecr