Azamgarh: Re-open arson attack case, SC/ST panel tells police
By: Express News Service | Lucknow |
Updated: May 15, 2018 2:51:17 am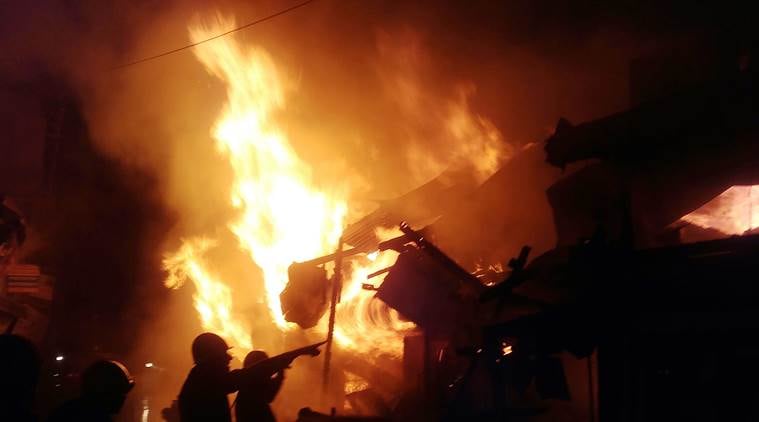 The panel's chairman, Brij Lal, claimed a proper investigation was not carried out under then Samajwadi Party government's pressure. (Representational Image)
The Scheduled Caste and Scheduled Tribes (SC/ST) Commission has asked the Uttar Pradesh police to reopen a 2016 case of an arson attack on Dalits in Azamgarh, saying a fair probe was not conducted. A dozen Dalit houses were set afire in the attack.
The panel's chairman, Brij Lal, claimed a proper investigation was not carried out under then Samajwadi Party government's pressure. "On May 14, 2016, a Dalit named Musafir had got a case registered against 21 people and 150-240 unidentified others after he was allegedly beaten up by one Danish, his son Jarar Ahmad, Mister and others. The accused were influential people and after the FIR was lodged, they started forcing Musafir to withdraw the case," said Lal, a former Uttar Pradesh police chief who joined the BJP after retirement.
Lal claimed the accused torched around 12 Dalit houses and attacked vehicles with bricks, rods, stones and illicit weapons when Musafir refused to withdraw the case. "When the police and district administration officials rushed to the spot, the (accused) attacked (them too) by firing at them. The rioters attacked additional district magistrate Anil Kumar Singh, tehsildar Ratnesh Tiwari, nayab tehsildar Laldhar Yadav and the circle officer Krishna Mohan Saroj…"
He alleged shots were fired at the police team and that Saroj suffered a gunshot injury.
"The Akhilesh Yadav government was in power and I was stopped when I tried to visit the village. I always knew the accused were saved," said Lal. "The then Samajwadi Party government saved the Muslim accused to appease its vote bank."
He said only a few accused were arrested. Lal added videos of the violence purportedly showed the attack on the police. "The police were soft against the accused and the chargesheet was filed against some of the accused. Many of the accused are absconding."
Lal said he has also sought financial help for the victims as per the SC/St Act and to know whether they were compensated for the loss of property. "Also, I have asked whether the rioters were restricted under the relevant CrPC sections to ensure the safety of the victims and was there any action against the accused under the NSA." Lal said he has asked top police officers to update the commission about the investigation fortnightly.
A second FIR was lodged against 13 people and around 250 unidentified others for rioting with a deadly weapon, attempt to murder, house trespass after preparation for hurt, assault or wrongful restraint, and voluntarily causing hurt to deter public servant from duty.
DIG Azamgarh (range) Vijay Bhushan said he could not comment on the matter as he did not have the case details yet.
Follow The Global Express News Coverage on Karnataka Assembly Election Results 2018. For live coverage, live expert analysis and real-time interactive map, log on to IndianExpress.com
For all the latest India News, download Global Express News App
ie india