Aurangabad riots: Were outnumbered by mobs, admits top cop in report to govt
Written by Rashmi Rajput | Mumbai |
Published: May 15, 2018 5:58:34 am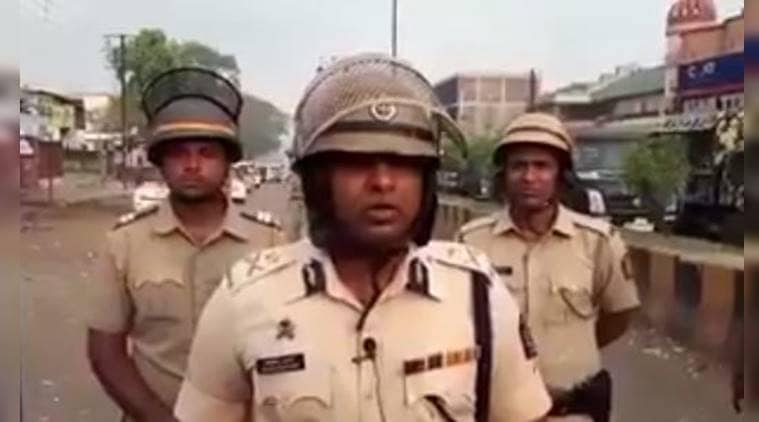 Aurangabad CP Milind Bharambe
AURANGABAD's acting police chief Milind Bharambe on Monday said that the police were outnumbered by the mobs last week despite swiftly attending to every call about tension or violence in various pockets of the city. This, coupled with rumour-mongering, led to last week's rioting, he has told the Maharashtra home department.
In his report to the department, Bharambe has detailed what led to the riots and has described the police action thereafter, said sources privy to the report.
On Monday, Maharashtra Police also ordered a probe on whether policemen allowed a free hand to rioters. The probe was ordered after a seven-minute video emerged, showing policemen purportedly turning a blind eye as rioting continued.
"We are probing the allegations and an inquiry is under way," DGP Satish Mathur told The Global Express News.
On the probe into the video, Bharambe said, "We have got the video and are trying to ascertain if the policemen seen in the video failed to rein in the mobs and allowed them a free hand, or they were moving with the civilians to nab the miscreants while attending to a call by a local. If they were found to be hand in gloves with rioters, stringent action would be taken against them."
According to Bharambe's report to the government, riots began in Gandhinagar area, where clashes broke out between two communities late Friday after the local administration cut off water connection to an unauthorised shrine. Earlier in the day, water connection of a mosque had also been disconnected, leading to rumours on social media about water supply being disconnected to some places of worship.
The tension in Gandhinagar consequently spread to neighbouring marketplaces of Motikaranja, Shahganj, Jinsi, Rajabazar, Saraf Bazar and Nawabpur. "After the drive carried out by the civic body, a lot of rumours started spreading and this led to the riots spreading in the neighbouring pockets," said a senior home department official, who reviewed the report.
"While the police were quick to react and respond to every call of law and order breakdown, however, when they reached the spot, they were outnumbered by the rioters. Rumours were another reason why riots spread in the city," the official said, quoting the report.
On Monday, curfew continued to be in place in some areas.
Chief Minister Devendra Fadnavis, who also handles the Home portfolio, has said efforts have been made to bring people from different communities together and restore peace.
Follow The Global Express News Coverage on Karnataka Assembly Election Results 2018. For live coverage, live expert analysis and real-time interactive map, log on to IndianExpress.com
For all the latest India News, download Global Express News App
ie india