Asia Cup 2018: Pakistan look for lessons in Jasprit Bumrah's efficiency
Written by Shamik Chakrabarty |
Updated: September 25, 2018 11:16:48 am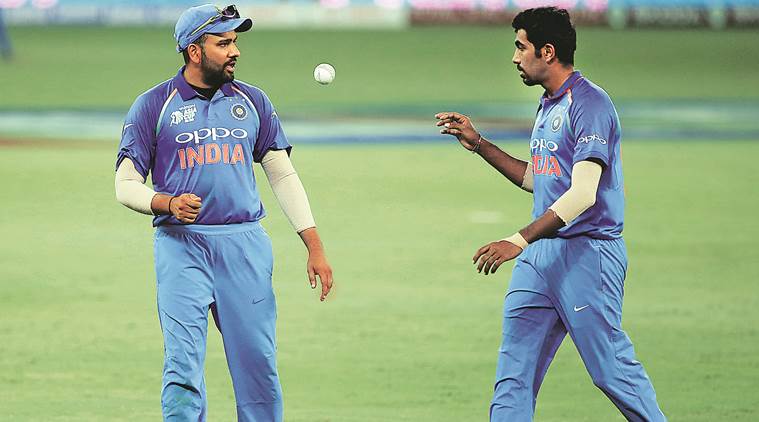 In his first match of the Asia Cup, Bumrah started off with two maidens on the spin and conceded only 10 runs in his first spell of four overs. (Source: PTI)
India and Pakistan training in adjacent nets is an extreme rarity in international cricket. The Asia Cup has thrown up the novelty – the arch rivals sharing the ICC Academy facilities in the Dubai heat. And when that happened, Pakistan coach Mickey Arthur's eyes got fixated on Jasprit Bumrah brilliance. Arthur is so impressed with the Indian fast bowler that he will have a video session for Mohammad Amir and company, highlighting Bumrah's yorkers. "One thing that impressed me was; we had an optional session the other day… We sat there for 20 minutes and I watched Jasprit Bumrah at the nets next to us, executing yorker after yorker after yorker, and he put that into practice tonight (Sunday). In our review, we definitely will be showing our young bowlers; his execution was very good in the death overs," Arthur said after Pakistan suffered yet another demoralising defeat to India.
Round Two of the India-Pakistan contest in the Asia Cup on Sunday captured the plight of the Pakistan fast bowlers. Amir, Shaheen Afridi and Hasan Ali collectively gave away 135 runs in 20 overs. They conceded 16 fours and four sixes between them. Rohit Sharma and Shikhar Dhawan toyed with them, scoring centuries in the process. Pakistan will face Bangladesh in a virtual semifinal on Wednesday and quickly need to get their (bowling) act together. That they are trying to take a leaf out of Bumrah's book attests the latter's impact.
WATCH: India cricket team celebrates Ambati Rayudu's 33rd birthday in Dubai
After recovering from a broken thumb, Bumrah played three Tests in England, bagging 14 wickets including a five-for. From the cooler climes to the desert sun and back to white-ball cricket; Bumrah once again hit the ground running. Hardik Pandya and Shardul Thakur couldn't cope with the 'climate change' and returned home with injuries. Bumrah, though, is imposing himself on opponents without breaking a sweat.
In his first match of the Asia Cup, Bumrah started off with two maidens on the spin and conceded only 10 runs in his first spell of four overs. When he came on at the death, he displayed his variety. A slower ball foxed Faheem Ashraf while a trademark yorker castled Usman Khan.
Bumrah's first spell against Bangladesh was intimidating. He hit Liton Das on the right shoulder with a bouncer and then bowled almost an unplayable delivery to square up the opener. And this time, he also took a wicket in his first spell, beating Nazmul Hossain with pace and movement. Comeback man Ravindra Jadeja was India's hero in that match with a four-for. But Bumrah had softened Bangladesh up before wiping off the tail in his final spell. Against Pakistan on Sunday, he was at his peak, bowling yorkers for fun and making the ball talk.
Seamers created pressure on Pakistan batting, says Yuzvendra Chahal on emphatic win
"Bumrah has matured as a bowler now; has played a great amount of cricket and understands his bowling. It's very important for any player. He understands what fields he needs to set and on a wicket like that you need to be clever, keep it tight, keep up pressure," stand-in skipper Rohit Sharma said after the win against Pakistan on Sunday. The captain too has been brilliant in the way he has handled his bowlers.
Bumrah so far has conceded only 10 fours, and not a single six, in 26.2 overs in three matches in the Asia Cup, taking seven wickets. His bowing wasn't isolated in its effectiveness for India. Bhuvneshwar Kumar, Yuzvendra Chahal, Kuldeep Yadav, Jadeja and even Kedar Jadhav – every bowler has contributed handsomely as India has restricted their opponents to low totals. But Bumrah has proved to be the team's x-factor. He sat out the Hong Kong game and it was the only time the Indian bowling looked a little off colour.
India will play their final Super Four stage match against Afghanistan on Tuesday. It's a dead rubber, with the defending champions already in the final and their opponents out of the tournament following back-to-back losses. So it's an opportunity for the front line pace duo – Bumrah and Kumar – to cool their heels and recover. Khaleel Ahmed and Sidharth Kaul could be the likely replacements.
For all the latest Sports News, download Global Express News App
iecr