#6ETakeoffTuesday: IndiGo Offers 10% Discount On Flight Tickets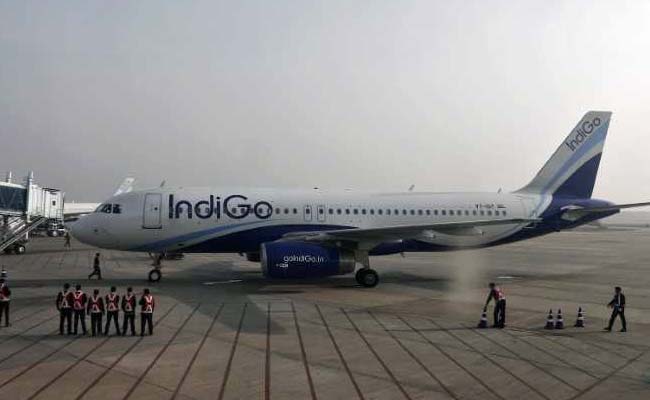 IndiGo is offering a discount of 10 per cent on domestic and international flight tickets on Tuesday, the airline said on its Twitter handle @IndiGo6E. IndiGo's discount, under the #6ETakeoffTuesday offer on domestic and international flight tickets, can be availed between 12 pm and 6 pm on Tuesday, the airline said. IndiGo's offer is valid on flight tickets booked via its mobile app only. IndiGo's offer on domestic and intenational flight tickets is valid only on the base fare. IndiGo is a leading airline of the country. Such offers from airlines seek to tap the booming aviation sector of India, which registered a growth of 27.9 per cent in terms of passenger traffic in the month of March compared to the corresponding month of the previous year, according to news agency Indo-Asian News Service (IANS).
How to avail IndiGo's 10% discount offer #6ETakeoffTuesday on domestic, international flight tickets
IndiGo will offer discount of 10 per cent on the 'Base Fare' per flight booking (domestic and international) during the promotion period, said IndiGo on its website, goindigo.in. IndiGo's offer is applicable on limited bookings per flight, available on a first come first served basis. IndiGo's discount is not applicable on airport charges and government taxes.
IndiGo's discount can be availed only by using the promo code APPPRMO ("Promo Code") at the time of flight booking on IndiGo's mobile app for travel to be undertaken between June 1, 2018 and July 31, 2018.

#6ETakeoffTuesday is here! Book your flight between 12pm – 6pm using the IndiGo mobile app & get 10% off. Use promo code: APPPRMO. Know More: https://t.co/Z0MeNSeyripic.twitter.com/Xz5MWJAc0U

— IndiGo (@IndiGo6E) May 15, 2018
Terms and conditions of IndiGo's #6ETakeoffTuesday offer on domestic, international flight tickets
#6ETakeoffTuesday ("Offer") is made by InterGlobe Aviation Limited ("IndiGo"), to the customers booking IndiGo flights on May 15, 2018, between 1200 hours and 1800 hours (IST) ("Promotion Period").
IndiGo's offer #6ETakeoffTuesday is applicable on bookings made for 'non-stop', 'via' and 'connecting' flights, at least 21 days before the date of travel.
Only persons who are of sound mind and aged 18 years or above are eligible to accept this offer from IndiGo. It is not valid on group bookings and any flight bookings made through travel agents, or by corporate houses, or through platforms other than IndiGo's mobile application.
IndiGo's offer cannot be clubbed with any other offer, scheme, promotion, etc., of IndiGo. It is only applicable for bookings made on regular fares, return fares and family fares (applicable on one way, round-trip or multi-city bookings), and shall not be valid on bookings made on flexi fares or any discounted or special fares, except as specified under this offer.
#6ETakeoffTuesday offer is non-transferable, non-exchangeable and non-encashable.
If the booking made under this offer is cancelled for any reason, the promo code cannot be revalidated for the purpose of new booking made in its place.
All IndiGo flight bookings made under the #6ETakeoffTuesday offer shall be subject to IndiGo's conditions of carriage available at www.goindigo.in.
IndiGo's offer is being made purely on a "best effort" basis and is subject to force majeure conditions. IndiGo reserves the right to terminate or modify the #6ETakeoffTuesday offer at any time, without assigning any reason and without prior intimation.
IndiGo's decision with respect to all transactions under the offer shall be final and binding on all the participating customers.
By making IndiGo flight booking during the promotion period, customer: (i) unconditionally and irrevocably agrees to these terms and conditions; and (ii) consents that all information provided by the customer may be shared by IndiGo with its agents, representatives, service providers, employees, and may be used to send promotional information pertaining to IndiGo to the customer, in future.
IndiGo's offer #6ETakeoffTuesday will be governed by and construed in accordance with the applicable laws in India, and all matters related to this offer are subject to the exclusive jurisdiction of the courts at New Delhi.
Separately, IndiGo is offering 6 per cent discount on flight tickets to students.
IndiGo also offers to its customers the Flexi Fares facility, which provides flexibility to the flyers to make unlimited changes to travel dates without paying a change fee.
IndiGo is also offering 20 per cent discount on food and beverages for passengers if they pay using their Mastercard credit cards.
IndiGo, which operates over 1,086 daily flights at present, connecting 42 domestic and eight international destinations with a fleet of 160 planes, will next month be starting daily direct air services from Tiruchirappalli to Bengaluru and Kochi.
Recently, IndiGo announced that its president Aditya Ghosh would step down with effect from July 31, after a 10-year-long stint with the company.
Separately, AirAsia India is offering domestic flight tickets starting at Rs. 1,399 on select routes under a promotional scheme.
For the latest Election Results & Live Updates from Karnataka log on to NDTV.com. Like us on Facebook or follow us on Twitter for updates.
n_b